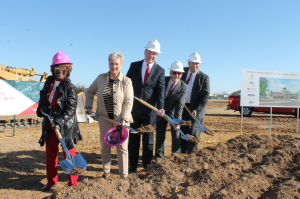 The Denton County Commissioners Court broke ground on the future Denton County Courthouse Thursday near Loop 288.
The new facility, at 701 Karina St. in Denton, will house offices from both the Joseph A. Carroll County Administration Building and the Courthouse-on-the-Square, including: Aide to the Commissioners Court, Auditor, Budget, Commissioners Court, Community Relations, County Judge, Economic Development, Human Resources, Precinct 1 Constable, Precinct 1 Justice of the Peace, Purchasing and Treasurer, according to a county news release.
At 95,794 square feet, the three-story building will bring many offices under one roof. By vacating the Joseph A. Carroll County Administration Building, more capacity will be available for additional courtrooms, the news release said.
"This will help us with one of the challenges we face in meeting a growing demand," said County Judge Mary Horn. "As good stewards of taxpayer dollars, Denton County is committed to providing quality customer service."
The Denton County Courthouse will be near existing offices for the Denton County Public Health, Elections Administration, Technology Services, Facilities, Construction Management and the Emergency Services divisions, among others. Native trees and plants will adorn the back lawn that will be available for public use with outdoor event rooms, spots for food trucks, a stage and performance area and outdoor restrooms.
The facility will cost around $41 million to build with construction expected to be complete in 2020, according to the county.