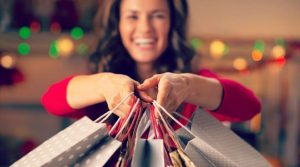 Criminals are putting in overtime during the Christmas shopping season, the Flower Mound Police Department says. The department shared the following seasonal safety tips so residents won't have their holiday cheer stolen by Grinches:
In-Store Shopping: Always lock your vehicle. Place purchased items in the trunk before heading to the next shopping location, and if possible, take previous purchases with you into the next store.
Online Shopping: Use a secure network connection, avoid clicking random links, and only offer up personal/financial information to trusted websites. Avoid package thefts by arranging for a neighbor to sign for your items, or schedule a delivery when someone will be home to accept it. Finally, consider having your items shipped to your office.
Unwanted Curb Appeal: Who would have thought, simply taking out the trash, following a gathering or holiday party can actually make your home a target for criminals? Don't put your television, game console or other gift boxes out at the curb for trash collection. Rather, break the boxes down and put them inside the receptacles to avoid drawing attention to your home.
Out of Town: Traveling for the holidays? Consider FMPD's Vacation Watch program, available free of charge to Flower Mound residents.