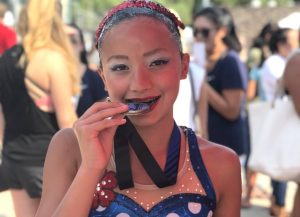 By John English
"It felt like a dream come true," Nathalia Valdez said, remembering the day she learned she had been selected to the National Synchronized Swimming team. The Flower Mound tween has been participating in the sport for more than half her life and said it was a great honor for her.
Valdez, 12, attends McKamy Middle School and competes locally for the Pirouettes of Texas. She described synchronized swimming as a combination of multiple disciplines, including gymnastics, speed swimming and endurance training.
"When I was five-years-old, I was invited to a synchronized swimming show and it was then when I fell in love with the sport," Valdez said. "After that, I expressed interest and was invited to a practice session where I had the best time ever."
Valdez competed with Team USA this past summer at the UANA Pan American Championships held in Riverside, California. [Union Americana de Natacion (UANA) was formed in 1948 during the Olympic Games in London. UANA is an organization with the purpose of organizing events and programming for aquatic sports in the Western Hemisphere.]
Athletes came from Mexico, Canada, Puerto Rico, Colombia, Costa Rica, El Salvador and, Jamaica to compete; and, Valdez placed ninth overall in age 12U figures and her team won gold.
Synchronized swimming is the only sport in which Valdez competes, because it is so intricate that it requires a lot of different types of training.
"Synchronized swimming is what really makes me happy and that it's why I have so much fun doing it," Valdez said. "It's not easy at all and what is challenging is the combination of multiple disciplines in one sport; and, how mind-over-body is very important."
Valdez's coach, Cassidy Crew, said being named to the national team is an incredible honor for Valdez and that a number of things make her a truly special athlete.
"Nathalia started with a lot of natural talent," Crew said. "She is a highly competitive athlete who is both motivated by– and a motivator for– her teammates. She challenges herself to be the best she can be and leads her teammates by example."
Crew said Valdez is also quick to offer ideas for both conditioning and choreography, as well as having a flair for the artistic side of synchronized swimming.
"She is a natural performer," Crew said. "She swims best under pressure and loves to perform for the judges. Her enthusiasm to learn new skills– improve upon them– and then perform for judges allows her to showcase her talents in a very exciting way; and, catch the eye of the national judges."
When it comes to how far the McKamy seventh grader would like to take the sport of synchronized swimming, Valdez said she is aiming high.
"I want to represent my country and become a Gold Medal Olympian with the U.S. National Team," Valdez said.