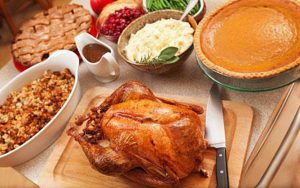 Just imagine a Thanksgiving where you didn't have to cook and could just relax on the couch – watching the Macy's Parade, some football and catching up with friends and family outside of the kitchen.
Thanks to these Foodie Friday restaurants, that vision could become a reality! Whether you just need someone to help out with dessert, or you're looking for someone to cater the whole meal, here are some options to consider!
Marty B's
If you have family coming to town, why not treat them to a real Texas-style Thanksgiving meal? And why not let Marty B's handle it for you? Contact them at 940-241-3500 for more information about their Thanksgiving meals this year.
Flour Shop Bakery
The Flour Shop Bakery in Flower Mound always has a delicious selection of pies, breads and cookies to order for your Thanksgiving meal. Stay tuned to their Facebook page or call 972-355-3600 for more information on the menu and ordering cutoff dates!
Swirl Bakery
The thing we love about Swirl Bakery is they can help with everything from your main dish to your sides to dessert. We absolutely love their pumpkin pie – it's one of our personal Thanksgiving staples! Call them at 214-513-1334 to order what you need!
Carvao Prime Brazilian Steakhouse
If you're looking for someplace that will be open on Thanksgiving, Carvao has been serving both lunch and dinner the past couple years. What says Thanksgiving more than 18 cuts of meat, an incredible salad bar and cocktails galore? Make your Thanksgiving reservation by calling them at 972-539-8555.
Hive Bakery
Hive Bakery in Parker Square offers a variety of scratch-made desserts that would be the perfect way to end your Thanksgiving meal! They have classic fall pies like pecan, apple and pumpkin; breads; cookies; and cupcakes like their seasonal Brown Sugar Apple Cider. Call them to place your order at 972-316-7625.
Salerno's
Salerno's is accepting reservations now for their Annual Thanksgiving Buffet which will be from 11 a.m. to 2 p.m. on Thanksgiving Day. They will be serving traditional Thanksgiving items as well as some Red Snapper, lasagna and penne pasta. Reservations are required, so call to make yours today at 972-539-9534.