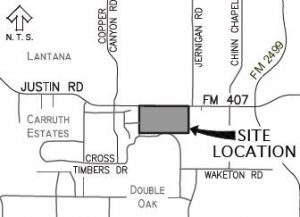 The town of Copper Canyon's Planning & Zoning Commission postponed a decision on a request for higher density in a proposed subdivision.
Despite approval to build 198 homes along FM 407 in Copper Canyon, Toll Brothers returned to town officials Monday night to ask for an increase in density. The upscale homebuilder wants the town to amend the Master Plan to allow 225 homes at a density of 2.56 homes per acre.
Mayor Sue Tejml said P&Z commissioners chose to postpone a decision until the Dec. 10 Council meeting, because they wanted to ask the town's financial officer, Steve Hill, to discuss what the higher-density project would mean financially for the town.
The proposed Vickery Park subdivision on the south side of FM 407 will consist of only single-family homes and will be gated for security.