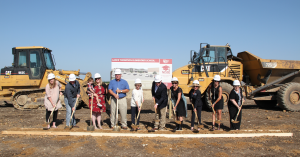 Northwest ISD has launched a new website for district families and community members to monitor the process of major construction projects.
The website, www.nisdtxconstruction.org, classifies projects into three types: active (for projects currently being constructed), in-planning (for projects that have been announced but are not currently under construction) and completed. It has a "backgrounds and resources" section provides information about how projects were determined, bond election histories, district growth and more, according to a NISD news release.
One of the district's major active projects that can be tracked on the new website is Lance Thompson Elementary School, the district's 19th elementary school. Construction began in June in the west side of the Harvest neighborhood off FM 407, one of the district's fastest growing areas. The future school is scheduled to open in August 2019 and is a part of the 2017 bond package.