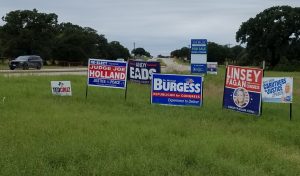 The number of contested races this November in Denton County is eye-opening, especially for a county that has not elected a Democrat in well over a decade.
There are 500,000 registered voters and counting in Denton County.
Southern Denton County ballots will include the U.S. Senate race that is garnering national attention, with Democrat Beto O'Rourke challenging Republican Ted Cruz.
Beto supporter Bill Featherstone from Lantana said that he "likes the message and tone of his platform" on important issues.
"He has a positive, inspirational message. Beto is interested in improving our country and not just tearing up existing legislation because another political party enacted it. Beto sends a message of unity and not divisiveness which we greatly need today," said Featherstone.
Suzanne Gilbert, also a Lantana resident, favors conservative incumbent Ted Cruz.
"Cruz is the only senatorial candidate that has proven his fidelity to, defense of, and faithful exposition and interpretation of our Constitution, which is essential to preserving our God-given freedom and liberty in the most benevolent country in history. Having grown up throughout California, the state with the highest rate of unsheltered homeless in the nation, I know firsthand what Beto's idealistic propaganda actually looks like throughout all stages of implementation," said Gilbert.
In the race for TX-26 district in the U.S. House of Representatives, which represents all of Denton County and parts of the surrounding area, incumbent U.S. Rep. Michael Burgess (R) is being challenged by Democrat Linsey Fagan. Burgess has held the seat since 2002.
There will be many other national, state and county races on the ballot. To highlight a few local ones:
Incumbent State Rep. Tan Parker of Flower Mound is being challenged by Democratic newcomer Laura Haines in Texas House District 63.
Democrat Andrew Morris is looking to unseat Republican Lynn Stucky in House District 64.
Republican and longtime Precinct 4 County Commissioner Andy Eads is up against newcomer Democrat Diana Leggett for County Judge.
Amy Manuel is the first Democrat to campaign for Denton County Clerk in over three decades, challenging Republican incumbent, Juli Luke.
Republican Dianne Edmondson and Democrat Bryan Webb are vying for Precinct 4 County Commissioner.
Joe Holland (R) is being challenged by Keri Anne Caruthers (D) in Justice of the Peace Precinct 1, which includes Lantana.
The Justice of the Peace Precinct 3 race that covers Highland Village, Copper Canyon and Lewisville pits James Kerbow (R) against Marianne Poer Vander Stoep (D).
Harris Hughey (R) and Michael Callaway (D) are eyeing the Justice of the Peace Precinct 4 seat in Flower Mound, Double Oak and southwestern Denton County.
See a Denton County Voters Guide here (PDF form).
Find a sample ballot by visiting www.votedenton.com.
Early voting will be available at select locations from Oct. 22 to Nov. 2. The closest early voting locations in southern Denton County are:
Flower Mound Municipal Court, 4150 Kirkpatrick Lane
Highland Village Municipal Complex, 1000 Highland Village Road
Denton County Southwest Courthouse, 6200 Canyon Falls Drive
Robson Ranch Fitness Center, 9416 Ed Robson Circle
Lewisville Municipal Annex, 1197 W. Main Street
The last day to apply for ballot by mail is Oct. 26. Visit www.votedenton.com to see if you are registered.