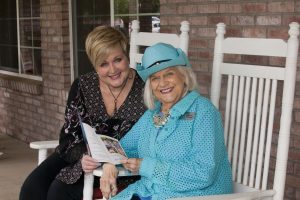 A local woman has found her passion in helping people find senior care and living options for themselves or their family members.
Lori Williams, who has lived in Flower Mound for 21 years, said that her grandmother was diagnosed with dementia over 20 years ago, prompting her family to find senior services for her.
"I saw the challenges my mom and her sister went through trying to find resources for her," Williams said.
Later on, as her children got older, Williams had the opportunity to begin working in senior living, "and I discovered that it's my passion."
Williams provides a service that a few national companies offer, but the difference is, she's local.
"I am able to personally visit the communities. I can spend time 1-on-1 with families," she said. "I provide a more personal service."
Her service is free to seniors and their families, as she is compensated by the communities.
Williams spends time educating people about senior options and resources available to them, whether that's independent living, assisted living, memory care or residential care homes in North Texas.
"A lot of what I do is educating," Williams said. "Many seniors are moving here from out of state because their kids are here. They have to find new doctors, a place to live, and more. That's where I come in."
Williams said her work is rewarding because she genuinely enjoys helping people.
Susan Pederson (pictured with Lori) is a perfect example of a senior who is thriving in a senior living community. She was initially hesitant about moving from her home, but now at age 86, she says she would not be as healthy and active as she is if she hadn't moved into her retirement community.
Williams said she seeks to match seniors with the perfect community.
"I'll ask about their past careers, hobbies and interests," she said. "If I get someone who enjoys gardening and reading, I try to match them to a community with a nice garden and big library."
For more information, visit loriwilliams-seniorservices.com or call 214-783-1222. Williams also has a Facebook page, just search Lori Williams – Senior Services. She is available to speak to groups.