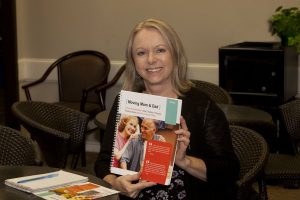 Local REALTOR® helps with senior housing transitions.
"When our parents or grandparents need assistance, it's a learning curve for all," said Edwena Potter, REALTOR®, Certified Senior Housing Professional and Flower Mound resident.
"Many have heard the child becomes the parent at some point.  I have a different view. The child becomes the 'partner' with the older adult to help with whatever is needed to 'age safely.'
"We aren't given a handbook to tell us how to deal with life's changes," Potter said. "The key is in the planning rather than making decisions in a crisis situation."
When her Mother was diagnosed with cancer, she was fortunate to have her mother-in-law, who owned a non-medical in-home health care business, as a guide.
"I was blessed to have that resource that most people don't," she said. "We don't realize the great need out there until we need it. Then we are shocked and, in my case, appalled at the lack of affordable senior living. We don't realize what Medicare and long-term care do and don't pay for and how expensive care can be without proper planning and help of knowledgeable professionals along the way."
Potter is presenting webinars twice a month called "Moving Mom and Dad: The 5 Common Mistakes Children of Older Adults Make and How to Avoid Them," which provide talking points and a roadmap to reduce as much stress as possible when our parents or grandparents need to transition to a more supportive environment.
To register for the webinars, go to DFWSeniorRealEstate.com and click on "Moving Mom and Dad webinar." Options are live at 9 a.m. on the third Tuesday of the month or 10 a.m. the first Saturday of the month. If you can't attend the webinar live, register anyway and the recording will be sent to you.
In addition to senior housing transitions, Potter serves first-time homebuyers, move-up buyers, "right-sizing" sellers and buyers and Probate related sellers in southern Denton County and northeast Tarrant County.
For more information contact Edwena Potter, REALTOR® Keller Williams® Realty Dallas Metro North at 469-616-0561.