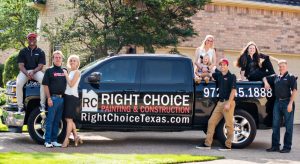 A happy customer is always the goal of Right Choice Painting and Construction; and, the Flower Mound company has received more than 100 customer service awards, the Angie's List Super Service Awards eight years running (an honor bestowed on only five-percent of service companies nationwide), plus an A+ rating with the Better Business Bureau.
Owner and CEO, Jeff Adkinson, began Right Choice 12 years ago as his ticket out of corporate America. He was joined by his wife, Jan, Owner and President, a year later, then by their daughter, Jordan and son-in-law, Kyle Mederos.
Together, the team has completed more than 17,000 projects and, on any given day, have 30-to-50 workers in customer's homes.
"And, we've been funded on every project we've done," Jeff said with pride. "Customers don't fund us unless they're happy with the work."
"I've used Right Choice Painting and Construction before and it was always a great experience," Kerry Wahl said. "When I was ready to do this renovation, I didn't call anyone else for bids. I just called Right Choice."
The Right Choice team began in Wahl's kitchen replacing her countertops, backsplash, floor tile, and painting her cabinets. They also replaced flooring throughout the house, installed new granite in one bathroom, painted ceilings, walls and trim in all but two rooms, installed crown molding in the living areas and built custom cabinets in the family room.
"There are so many choices and it's really not something I'm good at," admitted Wahl. "But, Jan Adkinson helped simplify things for me."
Like Wahl, Tommy and Jo Ann Farrar were also ready for a change. They loved their home when they built it 22 years ago, but it was time for something new.
From her first meeting with Jeff Adkinson: "I knew this was someone I could trust," said Farrar. "I felt like he'd do what he said he'd do, when he said he'd do it and he'd charge us a fair price. We put ourselves totally in their hands. They gave me a gorgeous, new home."
"If something goes wrong, we fix it; period," said Jeff. "I tell my crews that anything they do for a client they should do as if they're working in their own home."
Right Choice offers expert service for: kitchen and bathroom remodeling; interior and exterior painting; roofing; custom interior trim; granite and quartz countertops; wood, tile and carpet flooring; window replacement; gutter installation and so much more.
Contact Right Choice at: 972-745-1888, or visit: RightChoiceTexas.com.