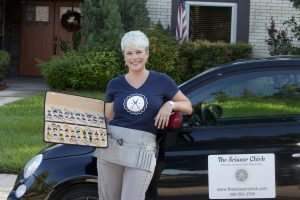 Hair cutting scissors have a convex edge, which is different from other types of scissors.
So says Carrie Padilla, a Lewisville resident, business owner, wife, mom, 1998 New Mexico National Guard Airman of The Year and our area's so-called "scissor chick."
With more than 10 years of professional stylist experience under her belt, Padilla knows what well-honed scissors can do.
"Fine hair is easier on sharp blades, but a lot of people have coarse, thick hair," Padilla said.
Beautiful haircuts have more than a monetary cost. Dull blades keep what stylists call the local "scissor guy" in business. He calendars a date at a salon, takes in mobile sharpening equipment and sets-up a temporary shop in the break room.
"Non-stylist sharpeners are at a disadvantage, since they have never cut hair," Padilla said.
"Hair Styling is an exhausting, on-your-feet-all-day profession," she said. "I started wondering if I could learn to sharpen scissors."
An internet search turned up a reputable sharpeners' school in Atlanta, Georgia.
"After training, I had to invent my title in this man-dominated profession," she stated. "'The Scissor Lady?' Too frumpy."
In no time flat, The Scissor Chick was born. The snappy title matches Padilla's youthful, fashion plate skin and looks crowned by a stunning short doo.
She's been in business for two-and-a-half-years and currently has approximately 300 customers.
"For a while, I styled and did this part-time, until the scales tipped in the 'Chick's' favor," Padilla said.
Geographically, she works close to home. She works from 9 a.m. to 4 p.m. daily, "while the kids are in school."
"It's too hard to service far away emergencies," she said. "If a stylist's scissors give-up-the-ghost in the middle of the day, I need to be available."
The Chick gets around in a sporty black 3-door Fiat that goes hand-in-glove with her stylish haircut and cheeriest of personalities. The persona and the wheels were made for each other.  Magnetic logo and contact information signs are on each door.
So, how did the Airman of The Year get into such a girlie business niche?
"From day-one I have always been a dress-ups and Barbie's kind of girl," she confided. "In high school I got straight A's, was a cheerleader and on the Student Council.  I just skirted around the issues that come with being the product of a typical 80's upbringing.
"When I arrived at college, it all caught up with me. I knew I needed structure and self-discipline.  I worried constantly about meeting basic needs like food and housing. One day the idea hit me, maybe I should join the Army. I had a guy friend in the service."
She mentioned the plan to her pal, who insisted the Air Force would be a better fit.
"Sure, I thought," Padilla said. "I went to the recruiter the next day and about two weeks later, I was in the Air Force, preparing to become an electrician who worked on C-130 transport airplanes.
"I enjoyed being in the Air Force, but electronics repair just wasn't me. I always worried about doing something wrong. Planes getting into trouble in flight really scared me."
"I also wanted to finish my college degree," she said." I did some of the work on my own time, but in the Armed Forces, that's a tough program to take on."
"Before the [Alfred P. Murrah Federal Building] bombing [in April 1995], Oklahoma City felt sleepy," Padilla remembers. "I finished school at Texas Woman's University with a Bachelor of General Studies in Business/English. While working a job in retail management, she met Sal.
She fell in love with all the Padillas and they all fell in love with her. Wedding bells rang for the couple.
Her new husband could tell retail management didn't capture his wife's energetic imagination.  During one of those husband/wife conversations he asked what she would do in life if she could truly choose.
"Be a hair stylist," she replied.
"Well then, why don't you do it?" he suggested.
Heck, the G.I. Bill would pay the costs. Padilla jumped through all the hoops, graduated from beauty school, got her license and went to work living her dream. Meanwhile, she and Sal had two children.
Every year she goes back to Atlanta for continuing sharpening education at a convention called the Sharpeners Jam.  Her former teacher, Bonnie Megowan– owner of Bonika Shears– sponsors the three-day event, which has attendance of several hundred people in the sharpening business.
"I learn something new every year," Padilla said.
Not only does she sharpen stylist's scissors; Padilla's a distributor. Those in need of a pair of hair shears, call the Scissor Chick.
Lots of discretionary cash? Buy a rhinestone-studded model or go gothic with little skulls smiling from the finger rests. If you really want to go custom, she sells her own brand embossed with the Scissor Chick logo.
The Scissor Chick sharpens for local salons. She offers a stylist a satisfaction guarantee, with a free trial period for new scissor purchases.
Her logo says Precision Shear Sharpening and that's what customers get.
For more information on this veteran-owned company, visit: www.thescissorchick.com or check out TheScissorChick on Facebook. Call 469-583-3768 to speak with Padilla.