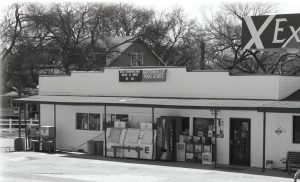 A local resident is restoring the old Bartonville Store and will open it up as an eatery and butcher shop with a full bar.
The original store, located on the northwest corner of McMakin and Jeter roads (on the west side of the Kroger shopping center) was built in the 1880s at the time the community of Bartonville was founded.
The store, which traded hands several times, burned down around 1944 and was rebuilt, and it remained in operation until February 2013, when it shut down. The town bought the property, and it has sold it to Double Oak resident Tim House, who has a sentimental attachment to the store and aims to restore it as authentically as possible.
"It's the reason there is a Bartonville," House said last year. "I live less than a mile from the store, and I used to hang out there quite a bit, enjoying a sandwich and sharing in the local conversation."
The old store was a good old fashioned small town convenience store, with groceries, a small deli area, motor oil and beer and wine, House said. Soon, it will be a high-end deli with specialty meats and a butcher shop with a full bar. House said he partnered with a neighbor, a Bartonville resident with "an exceptional career as a chef," who will be the new business' chef.
There will be an indoor space for live music, but there won't be amplified music on the outdoor patio.
House, who is semi-retired from work in real estate development, said he hopes to open sometime late this year or early next year. The store will keep its old name and while there will be some necessary renovations, guests can expect to recognize it as the old Bartonville Store.
"I will do my best to keep the store as authentic as possible and try to pay tribute to the history of the store," House said.