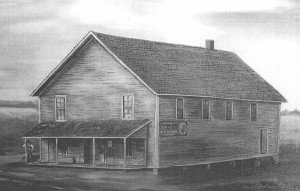 February 15, 2013 was a historic day in the history of the Cross Timbers area. That Friday marked the final time that James Price closed the doors on the Bartonville Food Store. This retail establishment was a fixture in our community for over 130 years and certainly one of the oldest continuously operating businesses in Denton County.
James and his parents have been the proprietors of the store for the last 54 years, but their tenure here only represents the last of a long chain of notable merchants in the Cross Timbers.
Back in 1882, Bentley B. Barton realized that he had something special on his farm which might present him with a great opportunity. Along with his brother James, Bentley had purchased over 220 acres of good farm land located about halfway between Denton Creek and Hickory Creek in southern Denton County. It was situated close the spot where the dirt road from Lewisville to Justin crossed the better traveled road from Grapevine to Denton. It also had a natural spring on it that never seemed to fail. To B.B. Barton this could easily become a hub of local activity.
His land was about 10 miles from the courthouse in Denton, 10 miles from Wall's store in Grapevine and 10 miles from the brand new railroad terminal in Lewisville. Barton could get just about anything he needed but it would take him five to six hours to hitch up his wagon, drive to town make his purchases, and return. He knew that other farmers living nearby would be happy to have a neighborhood store where they could get necessary supplies without making that long tedious trip into town.
B.B. made several of those trips and returned with lumber, nails and other building supplies and soon had erected a simple frame building which he stocked with items that he knew farmers would be in need of. One crucial item that he had was a flour mill with which bushels of wheat could be converted into sacks of flour. They did not have gluten free diets in those days. The little store was in a convenient place.  Farmers soon began to rely on the convenience of the local emporium. While at Mr. Barton's store, customers might catch up on the latest gossip and perhaps meet some of the new people who were always moving into the Cross Timbers. The hamlet was first called Barton's Mills, but in 1886, when Barton petitioned to become a U.S. Post Office, the name of the community had already been changed to Bartonville.
B.B. Barton was among the few who fully realized the impact that the railroads would have in bringing prosperity to our region. Without a doubt he was expecting a new railroad to make an obvious connection between Denton and Grapevine. He put his store on an advantageous spot in anticipation of this event. While Barton was certainly a visionary, he was not a civil engineer. By 1890 it was becoming clear that a railroad between Bartonville and Grapevine would be very unlikely. It would require a long expensive trestle to bridge Denton Creek there. It was easier to cross the the creek just a few miles to the west. Actually, south of Bartonville would be a much better spot for a big lake than a railroad.
In January of 1890, Barton made an arrangement with James E. Jones to run his store and post office while he looked for opportunities elsewhere. Then on March 12, 1890 Barton sold his store to Tolbert F. Jasper. Jasper and his wife Mollie ran the store and post office for about 2½ years. Jasper moved on to Lewisville where he managed a cotton gin and then on to Denton then Dallas where he became a successful businessman.
In February of 1892, the Bartonville Food Store was sold to Benjamin F. Savage. Mr. Savage was a widower from Mississippi who came to the Cross Timbers after the Civil War with his two young children. He married a second wife, Josephine Curtis, who came from Georgia. Josephine had five more children and the Savage family farmed here for several years. Ben Savage was 47 years old when he bought the store. He ran it for about ten years with his son, Elijah who became one of the Bartonville Postmasters. When Elijah and his wife Laura moved to Johnson County, Ben Savage employed a neighbor, John T. Simmons who actually took over the post office.
John Simmons was a member of a family who came to Texas from Alabama in 1876, when John was just seven years old. We know that he worked in the Bartonville store but he does not seem to have ever held ownership of it. Simmons did have a cotton gin here and it was no doubt located close to the store property. John eventually moved on to Denton in 1912 and was a successful merchant there. He died in 1950.
Mr. Savage agreed to sell his store to Thomas B. Breeding on March 13, 1903. Breeding was a farmer who came to Denton County from Tennessee in the mid 1880's and married Susan Chambers whose family had moved here from Alabama shortly after the Civil War. Mr. Breeding was a popular member of our community but he decided to leave the more demanding life of a farmer and become a merchant. Thomas and Susan, along with their daughter, Bertha, and son, Clarence, it seems did very well with the Bartonville Store. Sometime around 1909 there was a fire that heavily damaged the 27 year old store building.
Before the First World War, Bartonville was enjoying a surge of prosperity due to several good crop years. Boll Weevils had made an appearance but had not yet become the menace that they were destined to be.  Breeding decided to immediately rebuild his store but he replaced it with a much grander building and he located it just to the south of the original structure. It was said that James A. Broom, another local farmer, built much of the new building. The expanded Bartonville Store reopened and Breeding along with his wife and children continued to operate the business. They chose to not reinstate the post office in the Bartonville Store however. The second floor of the store building was used for parties and other local events and as a meeting place for several local groups. Among them were the Bartonville Lodge #367 of the International Order of Odd Fellows and regular church services were held there by the Baptist Church of Christ at Blooming Grove.
We believe that the store burned in 1918 and was replaced by a similar two story building. This newer structure was about the same size but was located just to the north of the present store building to be a little closer to where the Breedings lived.
Tom Breeding's daughter grew up, married Rand Brumley and moved to a farm near Lewisville. His son married a girl named Willie Harris and moved to Sweetwater, Texas where he owned a shoe store. There are reports that Ben Tisdale, another local farmer, took over the Bartonville Store but he never owned it. He, no doubt worked for Tom Breeding, who died in 1933.
After the death of their father, Clarence and Bertha retained ownership of the Bartonville Store. We know that for a time, at least two other retail stores also operated at the Bartonville corner. One of these was located across the road and a little to the north of the present store building and started by a colorful resident usually called "Grandpa Tyler."
Christopher Columbus Tyler was a Confederate War Veteran who moved to Canton, Texas with his family immediately after the Civil War. He married and raised a family on a farm in Van Zandt, County. Sometime in the 1920's Tyler moved to Bartonville and opened a store next to his house. Living with Tyler were a daughter and four grandchildren. Minnie Beatrice Tamplin was a young widow with four children and an aging father to care for. She ran one of the stores in Bartonville and after she married a gentleman named Andrew "Monk" Faught, their store was referred to as the Faught Store. For whatever reason, the other businesses disappeared by 1950, leaving only the original Bartonville Food Store still in operation.
On July 27, 1938, the two adult children of T.B. and Susan Breeding sold their store to Darrel R. Pitt. Mr. Pitt often used the nickname "Soakie."
Soakie Pitt was born in Lewisville, grew up here and attended local schools. He married Vada Irene Brown who was a member of a very well established pioneer family of the Cross Timbers. Soakie and Vada operated the store during the time when we were recovering from the great depression and fighting the Second World War. Sometime around 1944 there was a fire that destroyed the two-story frame building. The Pitts rebuilt but made a smaller structure that was put about in the same spot as the current store building. In March of 1946, Vada Pitt became severely ill while pregnant with her third child. Darrell sold the store to Jim L. Ross shortly before the death of his wife, Vada.
We know very little about Mr. Ross and his wife Thelma. They owned and operated the store at Bartonville for the post-war period and for most of the Korean War. On July 31, 1951 the store was sold to A.M. Alley
Archie Alley was the son of Marion Frances Alley who was a native of California but went east as a young man. He married a girl from Arkansas named Nancy E. Taylor and they lived on a farm in Oklahoma where they raised a large family. The Alley's relocated to Denton County sometime in the mid 1920's where Archie grew up, then married a girl named Obera Price. Obera was the daughter of Henry D. and Luda Price who raised their family in Delta County, Texas then came to Denton County. Archie got a job in Dallas in a warehouse and then became a salesman for the Manor Bakery.
Archie and Obera moved back to Denton County where both of them still had families and Archie got a job in a Denton furniture store. When the Bartonville Food Store was put up for sale, the Alley's bought it. Archie immediately set out to clean up and renovate his property. Sometime around 1956 the old store was torn down and the main section of the present building constructed to take its place. Archie and Obera, with help from their three children, operated the store and grew the business for several more years. Then in May of 1959, Archie decided to seek a partner to share his work load. He sold half of his interest in the Bartonville Food Store to his brother-in-law, James C. Price.
James Conrad Price was a younger brother of Obera Price Alley. He grew up on his father's farm in Denton County but after high school, Price moved in with his sister and brother-in law in Dallas. He got a job in a shipping warehouse with Archie. When WWII was declared, J.C. Price was drafted into the Army. He was sent to the Pacific where he saw a lot of action. J.C. was severely wounded in the Philippines in the Battle of Leyte Island. He recovered and saw more action at Okinawa, where he led a squad of men who rescued several men who had been cut off from their unit by the Japanese. He received another, more critical wound for which he got a well earned medical discharge. When Sergeant Price came home he had two Purple Hearts, a Silver Star, a Marksmanship Award and a few other medals.
In 1945, J.C. was an accomplished war hero, and only 23 years old when he married Amie Lois Harrison. He got a job as a truck driver and bought a house in Irving. Amie had a son who was named James Ray Price. When Archie Alley decided that he wanted to find a suitable partner, J.C. Price was an obvious choice.
Archie, Obera, James and Amie were already fixtures of the Bartonville community when they became our local shop keepers. Their store remained a local meeting place where citizens could keep up with whatever was happening. Our direct connection to the city of Grapevine was cut  off when the Army Corps of Engineers created a  big lake to our south. Gradually the cotton, wheat and peanut farms became horse and cattle pastures. The dirt and gravel roads became covered with asphalt. Then more and more of the farms were replaced by housing subdivisions. But the Bartonville Food Store remained a constant while so many other things were continually changing. One night in the mid 1960's Archie was awakened in his home across the road, by someone trying to break into the store. The would-be burglar was armed with a crowbar; but Archie had a rifle. The thief soon had a bullet in his leg and Archie held him at gunpoint until the sheriff came and made an arrest. Archie retired and sold his half interest in the store to J.C. Price in May of 1972. Archie moved to Mount Pleasant and died in 1994.
James and Amie along with their son continued the long standing policies that made the Bartonville Food Store the anchor of the community. James was more often referred to as "Shorty Price." In the early 1960's much of the land around Bartonville was being eyed covetously by the city of Irving. They had a plan to annex as much territory as they could, and bring city taxes to our rural community. The store at Bartonville was one of the local centers where citizens gathered to devise plans to resist the hostile takeover attempt. Bartonville incorporated in 1960 and then dissolved in 1963. It was incorporated again in 1973. Shorty Price's store was frequently used as a central spot to post notices and pass information on to interested residents. In the early 1980's the store quietly passed its 100th birthday. Amie Price died in 1981. As he became less able to continue, J.C. passed the ownership to his son. James C. Shorty Price died in 1998.
James Ray Price was still in diapers when his dad and mom joined with his aunt and uncle in the ownership of the Bartonville Food Store. He grew up in Bartonville, married a girl named Sherry Tudor, and raised a family of three children. James became a key member of the Argyle Volunteer Fire Department. In 1981, when the Town of Bartonville was building the town hall, James was instrumental in having an AVFD outpost incorporated into the new community building. James, like everyone else here, cannot remember a time when there was no Bartonville Food Store. I can't think of any business in our county that has a deeper history. Its longevity in our community can be credited to the efforts of the many individuals who built and cared for this one constant in our constantly changing neighborhood. James Price sold the store on February 15 to the Town of Bartonville.
However, James still has numerous memories of the business that was created over 130 years ago, and has been an integral part of his own family for more than half of that time. He recalled that when he was small there was an old character who often came into the store wearing a beat up old hat, ragged overalls and scuffed up cowboy boots. He was an authentic old-time farmer. He bought gas and other necessities on credit. Then the old guy stopped coming in and was forgotten. Several years after Shorty died, James was surprised when the old farmer suddenly reappeared across the counter. The old timer told James that he went broke and lost his farm and everything he owned. He thumbed his way up to Montana where he got a job and became quite successful. But he was always disturbed when he remembered how nice the people at the store in Bartonville were to him and how he skipped out owing them $20. He gave James $100 to settle up his debt.
I want to extend my appreciation to James Price, Bill Bradford and Ron Brown for the help that they gave me in researching this history of the Bartonville Food Store. There are so many forgotten facts and details that there is no way that any description of the store can be considered complete. But our community has had this lynchpin for longer than anyone can recall. It is a vital part of our history and we should never forget it.
Contact Jim Morriss at [email protected]