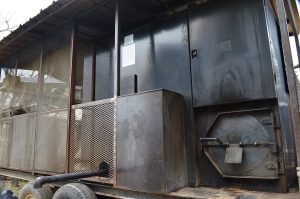 Can you smell that? It's familiar, sweet, smoky and strong. It's the tasty smell of BBQ mixed with competition brewing that can only come with the Smoke Ring event at Bumbershoot Barbecue.
Bumbershoot will be playing host to several competitors in the parking lot between themselves, Earl's 377 Pizza and Fuzzy's Taco Shop in Argyle on Hwy 377.
This Saturday, September 29 from 11 a.m. to 3 p.m., competitors representing Argyle Police Department, Flower Mound Fire Department and the Argyle Fire Department as well as teams coming in from Dallas and Wylie will be onsite, presenting their finest brisket, ribs and sauce.
Judges will determine the best for an assortment of prizes and bragging rights. And, for $5, all those who attend will be able to enjoy (and vote on) what these teams have been working on overnight. At 3 p.m., the judges will announce their winners and a People's Choice will be announced. Portion of the proceeds will benefit the North Texas Food Bank.
From 10:30 a.m. to 3 p.m., there will be live music and a bouncy house for the kids! For more information about this 'friendly food fight' amongst your friends & neighbors, follow the Bumbershoot Barbecue Facebook & Instagram pages for details.