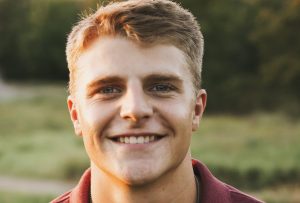 Garett Ozmer has a personal reason for wanting to become a Pediatric Neurologist when he grows up.
The 2017-18 Guyer High School Valedectorian– and All-District baseball player– has struggled with a condition throughout his life that has made the act of attending school more challenging.
"I had epilepsy as a child and experienced frequent seizures from fourth grade until I grew out of the condition my freshman year," Ozmer said. "My Pediatric Neurologist was the kindest and most caring doctor that I have ever had. She showed me the correct way to care for patients and especially how to make kids feel safe. After I grew out of my seizures, it made sense for me to pursue a career in neurology, because I've had personal experience in the field; and, I know exactly what kids are going through."
Ozmer, a member of the National Honor Society and National English Honor Society when he was at Guyer High School, said he struggled in a number of ways with his condition in school.
"It was embarrassing to be sitting in class and suddenly have every student looking at me as I was having a seizure," Ozmer said. "A side effect of the seizures was speech stuttering. At times, I was made fun of in school for it and I became self-conscious whenever I would speak to someone. I got to where I wouldn't talk as much, because I was afraid I would always be made fun of."
Ozmer, 18, was also a member of PALS (Peer Assistance Leadership and Service), a school-sponsored organization that pairs its mentors with at-risk students at local elementary and middle schools.
The Lantana teen was selected as a two-time All-District baseball player, received Academic All-State honors and carried a 5.0 grade point average at Guyer High School.
Because of his experiences growing up with epilepsy, Ozmer said becoming a Pediatric Neurologist was a "no brainer," and said he has been preparing for it for quite some time.
"Ever since taking my first science class in middle school, the subject has been my absolute favorite," Ozmer said. "Along with science, I've always had a love for children. I enjoy playing and spending time with children of all ages. It was easy to see that a career in pediatrics was the right thing for me. However, the neurology side was a work in progress."
Ozmer is headed to the University of Tulsa on a Presidential Scholarship– a full scholarship that is awarded to 28 incoming freshmen from roughly 450 applicants.
Ozmer's Favorites
Favorite Subject: Chemistry
Person who most inspires you: Dr. Mahshid Moein, MD
Favorite Food: Asian Food
Favorite Movie: The Avengers
Favorite TV Show: Friends or The Office
Book Currently Reading: The Harry Potter Series
Favorite Musical Group or Performer: Jason Derulo