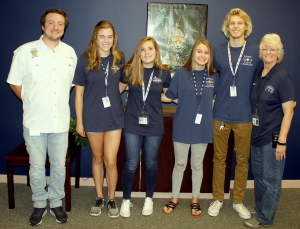 Six Flower Mound High School students were recently named Academic All-Americans for USA Water Polo, according to a news release.
Junior Kim Marquise, Senior Katherine Cox (Honors Academic All-American for maintaining a 4.0  GPA), Junior Rhee Breheny, Senior Rylan Lantz and Graduates Owen Martin and Brooke Le were selected based on their maintaining a GPA of 3.6 or higher, according to the news release.
Each of the students are on the FMHS water polo teams or were last year, when the boys' team won the state championship and the girls' team finished in fifth place. They are also members of USA Water Polo and competed at the 2018 National Junior Olympics this summer on their club team Thunder Water Polo.