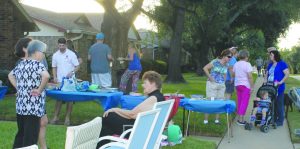 Many local police departments are preparing for an evening spent with their communities on the 35th National Night Out.
National Night Out, scheduled Oct. 2, is a popular nationwide community-building effort for residents to meet and hang out with their local law enforcement officers. See below for the times and locations of National Night Out festivities for the law enforcement agencies in southern Denton County. There will also be National Night Out block parties in participating neighborhoods that aren't listed here.
Argyle
The Argyle Police Department's National Night Out event will be held at Argyle Community Park, 135 Crawford Road, from 6-8 p.m. There will be a rock climbing wall, bounce house, obstacle course, face painting, balloon artist, hayride, free hotdogs, Snappy Snow, an air ambulance, a police K-9 demonstration, fire trucks, police cars and more. Plus, for a donation, you can dunk a police officer.
Bartonville
The Bartonville Police Department's National Night Out event will be held from 6-8 p.m. at Bartonville Town Center, 2650 FM 407. There will be free food and drinks, music, giveaways, bounce house, face painting, games, fingerprint kits and more.
Double Oak
Double Oak's National Night Out event is scheduled from 6-8:30 p.m. at John B. Wright Park, 320 Waketon Road. There will be bounce houses, giveaways from local merchants, law enforcement equipment displays, public safety dispatchers and members of the Denton County Sheriff's Office on hand.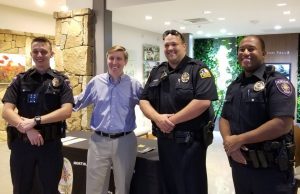 Flower Mound
Neighborhoods that organize National Night Out block parties between 6-9:30 p.m. will be eligible to compete for the annual Flower Mound Neighborhood of the Year award. Registered block parties could also receive visits from members of the Town Council, police department, fire department, McGruff the Crime Dog and more. Children in kindergarten through fifth grade, are invited to participate in a poster contest. To register your block party, or for more information on the kids' poster contest, click here. The deadlines for both are on Thursday.
Highland Village
The Highland Village Police Department will host a National Night Out get-together next to the police parking area, 1000 Highland Village Road, from 5-7 p.m. Hot dogs and refreshments will be served.