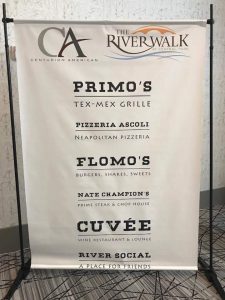 The River Walk in Flower Mound developer Centurion American on Monday night announced the names of the eateries that will occupy restaurant row.
Primo's Tex Mex Grill, Pizzeria Ascoli, Flomo's Burgers, Nate Champion's Prime Steak & Chop House, Cuvée Wine Restaurant and River Social were named as future tenants.
Restaurant row is three separate buildings connected with covered walkways and served by a separate restroom building along the canal. There will be seven individual restaurants included within the steel framing now visible.
So far, the shell building permit is the only one issued for the restaurant sites at this time.  No permits for tenant finish-outs– the actual restaurants– have been submitted.
Construction crews have been slowed-down by a utility issue with both Oncor and Atmos Energy with the fire lane next to restaurant row, town officials said.