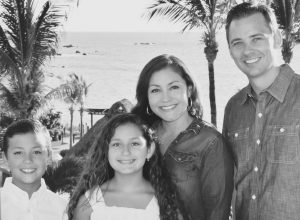 Following 10 successful years with Merrill Lynch, Glen D. Smith decided he needed a change. So, after talking to all the major firms, the Flower Mound financial advisor chose Raymond James, the St. Petersburg, Florida, company known for providing its agent's autonomy to help clients plan for their futures.
While avid sports fans likely recognize the name on the Tampa Bay Buccaneers football team's stadium, Raymond James has also been a prestigious one in the financial planning market, something that caught Smith's attention.
"What attracted us here is there are no proprietary products; there are no sales quotas.  We do not have to push banking products," said the 38-year-old Smith, who moved into his new south Flower Mound location on Dec. 8. "Some firms verbally said they would not pressure us to sell banking products, but Raymond James is the only one that put it in writing, which means a lot.
"We came here because this is one of the largest independent firms on the planet, and what makes Raymond James unique, in addition to elite technology and research, is that the parent company, Raymond James Financial, Inc. own a bank [Raymond James Bank, N.A] as opposed to a bank owning the investment firm. In fact, the only people who use the Raymond James bank are the Raymond James clients.
"It's all about trying to figure out how we can best help our clients with financial planning. I wanted to be at a firm that I think would continue to evolve with the industry and equip my practice with the support and capabilities to go out there and help my clients."
Smith said the best way to begin that process is to meet with new clients for about 60 minutes to lay the foundation to formulate a financial plan.
"It's like the doctor who is going to perform a procedure on a patient. You would probably have a CT scan, an MRI or some type of scan before the procedure. For us, the financial plan accomplishes this," he said. "Before we get into what they need, we run a financial plan. We figure out how much risk they want to take, what the purpose of the money is, how long they need to tie it up and we analyze the results with a Monte Carlo Simulation. And with this tool, we have created a sophisticated financial plan which allows us to come back to the client with concrete suggestions or ideas that we believe will help them meet their goals."
Smith said a good number of advisors choose not to do financial plans for several reasons.
"One reason advisors do not run the plans is that is can take time, not only to set up the plan, but to maintain it with life changes to that particular client," Smith said. "I think the other reason is it keeps the financial advisor accountable. It seems as though many advisors do not want to be accountable to what the plan projects. However, I think clients should know what realistic goals are and how their net-worth should be expected to change over time. This allows a client to monitor their progress. I think this is a more transparent way of doing business."
Raymond James focuses on clients with at least $500,000 in assets to invest.
"We serve an affluent clientele, and they have a certain expectation," he said. "For my team and I, it is easier to meet that expectation here with all the services we offer, whether it's investments, lending, trust services, insurance, banking or a variety of other services we provide."
When Smith says "we," he means his staff, all of whom moved with him. That includes partner and investment associate Robert L. Casey plus registered senior client associate Erica Doré and client associate Alisha Liddell.
While it has naturally been a process transitioning from one company and office to another, Smith said it has gone quite smoothly.
"Actually, the technology is similar," Smith stated. "When it comes to running financial or performance reports here, I now have many more templates so I can customize it to what the client wants."
Smith thanked those clients who stayed with him at his annual client appreciation event Aug. 11 at the Courtyard by Marriott in Flower Mound.
Staying in Flower Mound was key, even to the point of turning down the proverbial "corner office" at a major firm in downtown Dallas. One reason was so he could better serve and accommodate his clients who live in this area.
"I think many people enjoy the convenience of having a local advisor, whether it be for the quarterly meeting or picking up paperwork," he said. "We want to become a resource for the people in Flower Mound, Lantana, Argyle and Lewisville. We want to be the place people consider when they have a liquidity event or are thinking about retirement."
Smith believes the area is underserved in his field, something he hopes will work to his advantage.
"What I love about Raymond James is that we have all of the tools such as Securities Based Lending (SBL), banking service, trust services, and investment products that our much larger competitors have, but without all the mandates. The services and products are available for clients should they need them, but not mandated," Smith said.
Another reason Smith chose Raymond James is its relationship with financial guru Dave Ramsey.
"That's been an extra bonus, as I've been a big fan of Dave Ramsey, and here we are permitted to work with Dave," Smith said.
"Everything we do here is from the mind set, 'If this client were your mother, father or brother how would you handle the situation?' We believe if you treat a client as you would want a loved one to be treated, then we are on the right track.
"I'm trying to help affluent people in a transparent, open architecture way. Like I always tell my clients: they are the CEO; I'm the CFO. I work for them. Everything we do, we do in order to help improve a client's situation. I believe that over time, the community will sense a difference in what we do for our clients. I think the attention to detail and dedication we give to our clients becomes palpable.
"I view myself as the idea guy. I try to give my clients ideas to work toward their financial and lifestyle ambitions."
You can reach Glen at glendsmithandassociates.com or 469-212-8072.
Glen D. Smith & Associates is not a registered broker/dealer and is independent of Raymond James Financial Services, Inc. Securities offered through Raymond James Financial Services, Inc., member FINRA / SIPC. Investment advisory services offered through Raymond James Financial Services Advisors, Inc. Raymond James & Associates, Inc. and Raymond James Financial Services, Inc. are affiliated with Raymond James Bank, N.A. Unless otherwise specified, products purchased from or held at Raymond James & Associates or Raymond James Financial Services are not insured by the FDIC, are not deposits or other obligations of Raymond James Bank, are not guaranteed by Raymond James Bank and are subject to investment risks, including possible loss of the principal invested. Raymond James Financial Services does not endorse and is not affiliated with the Dave Ramsey or the SmartVestor Program. Opinions expressed are those of Glen D. Smith and the author and not necessarily those of RJFS or Raymond James. All opinions are as of this date and are subject to change without notice.