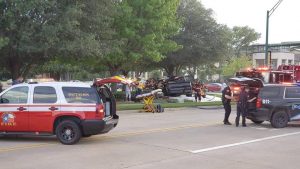 Two children and one man were injured in a major crash in Flower Mound on Tuesday evening.
About 6:38 p.m., a vehicle traveling southbound on FM 2499 crossed the center median at Churchill Road and entered the northbound lanes, according to Flower Mound Police Capt. Shane Jennings. The vehicle struck two other vehicles before hitting a tree and coming to a stop.
The driver, 45-year-old Dan Licardo, was flown by Careflite to a Dallas hospital with substantial injuries and remained hospitalized in critical condition Wednesday, Jennings said. The children were transported to a children's hospital and were released Wednesday.
"Licardo suffered a seizure due to TBI [traumatic brain injury] while driving. His vehicle went off the road, impacting a tree at high speed. It took emergency crews 45 minutes to cut Dan out of the truck," according to the Navy SEALs Fund website.
The crash is still under investigation and the cause has not been determined as of Wednesday, Jennings said, adding that it doesn't appear any citations will be issued.
A GoFundMe fundraiser has been set up for the victim of the crash. More than $25,000 has been raised in the first five hours.