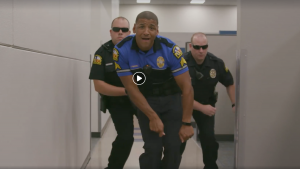 The Flower Mound Police Department is one of 16 law enforcement agencies that the USA TODAY newspaper chose for its bracket to determine the winner of the law enforcement lip sync challenge.
The lip sync challenge was the social media trend of the summer that had "police officers and firefighters showing their silly side in sometimes highly-produced, often hilarious and always-entertaining lip sync challenge videos," according to the nationwide newspaper.
"We've narrowed it down to 4 videos for 4 different regions of the country: West Coast, East Coast, Midwest and the South. Pick your favorite from each region … The winner from each will then go head-to-head to eventually be declared USA TODAY's winner of the law enforcement lip sync challenge!"
Flower Mound Police Department's lip sync of Meghan Trainor's pop song "Me Too" got more than 7.6 million views on its Facebook video alone, plus more than 550,000 on Youtube.
Voting in the first round of USA TODAY's bracket ends at 11 a.m. CT on Friday. Click here to watch all the videos and vote.
https://www.facebook.com/FlowerMoundPoliceDepartment/videos/807389332717979/