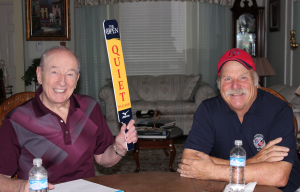 To say that Highland Village attorney William Brotherton enjoys playing golf is like saying fish enjoy swimming. Brotherton, owner of the Brotherton Law Firm and the Brotherton Real Estate Group in Highland Village, is an avid golfer, an author and, among many other attributes, is a proud member of the Abenaki Nation of Missisquoi in Vermont and was elected to the tribal council in October 2016. In addition, William is an adopted member of the Spirit Lake Sioux tribe of North Dakota. Moreover, his heritage extends to Lord Edward Brotherton of the United Kingdom. When word reached the organizers of the British Open that he has such a long blood line with Native Americans, he was invited to be the first Native American marshal of the British Open.
During 13 years as a gallery guard on the 14th hole at the Masters Golf Tournament at the Augusta National Golf Club, Brotherton has observed some of the best golfers in the world on the links. The invitation to serve at the British Open as marshal on the 16th hole at Carnoustie Golf Links in Scotland gave him the chance to see how those fabulous golfers play at another world class tournament. He was approved to work as a marshal by the Royal & Ancient Golf Club, or the R&A, the governing body of golf outside of the U.S. and Mexico (it's the United States Golf Association, or USGA, in the U.S. and Mexico). During my interview with William he talks about his heritage, the British Open and other adventures in Scotland.
"They even had a Carnoustie hat made up for me with my Sioux name 'Iron Horse' (Tasunka Masa in Sioux) embroidered on the back. My new friends were fascinated that years ago, my wife and I had visited the Brotherton Library at the University of Leeds. Lord Edward Brotherton founded the Brotherton Library and left his personal collection of books and manuscripts in trust for the university. When we visited, the curator of the library, Chris Sheppard, gave us a high tea to celebrate our visit and confirmed that I was a distant relative to Lord Brotherton. It was quite an honor, especially when Chris allowed us to handle valuable items from the collection, including first editions of Shakespeare and a lock of Mozart's hair. So, in addition to calling me Iron Horse, my friends at Carnoustie also called me 'Sir William.' Great fun!" For more info on William, click here. Also, check out an article on William by the State Bar of Texas.