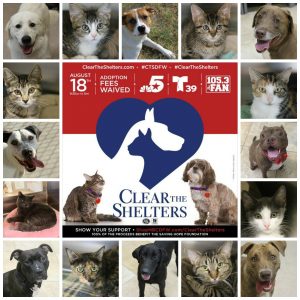 Flower Mound Animal Services is joining hundreds of animal shelters around the country in the annual Clear the Shelters pet adoption drive this weekend.
The Flower Mound Animal Adoption Shelter, 3950 Justin Road, will have extended hours from 9:30 a.m. to 5 p.m. on Saturday, Aug. 18, to help all of its animals have a chance at a new "furever" home. Since 2015, more than 150,000 pets have been adopted through the Clear the Shelters events, according to a town news release.
As of Tuesday, the Flower Mound Animal Shelter has 11 cats and 10 dogs available for adoption, according to the town website.
Many other shelters in the Dallas-Fort Worth area are also participating in Clear the Shelters, but the Flower Mound shelter is the only local one. The next closest participating shelters are the Gene Carey Animal Adoption Center in east Lewisville and Grapevine Animal Services. Click here for more information.