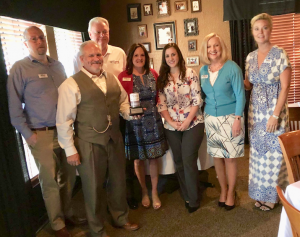 PointBank tasted victory once again this summer as the bank claimed top honors in the annual "Battle of the Banks" food drive benefiting Christian Community Action.
In the "Battle of the Banks" good drive, which started three years ago, participating banks host food drives for CCA's Bag of Blessings feeding program, which provides shelf-stable food for children in need over the summer weekends, according to a CCA news release. Last year, the Lewisville-based nonprofit provided more than 54,300 meals to low-income kids through Bag of Blessings.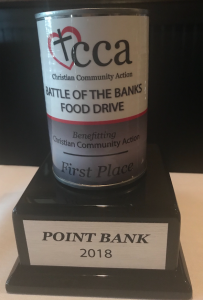 From May 24 to June 24 this year, the following banks participated in this year's "Battle of the Banks" by collecting cans of tuna and chicken: American National Bank, Commercial Bank of Texas, DATCU, Independent Bank and PointBank, according to the news release. PointBank claimed the winning title for the third year in a row by collecting 2,448 cans of tuna and chicken. A total of 3,813 cans were collected by all the participating banks.
CCA's new President and CEO, Stephen Hood, presented the PointBank team with a personalized award. PointBank's name will also be included on a permanent award that will be displayed in CCA's lobby.