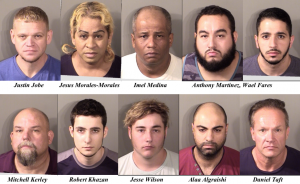 Ten people were arrested on charges of online solicitation of a minor last week after getting caught up in an undercover operation run by the Denton County Sheriff's Office and several other agencies.
The sheriff's office conducted the joint online solicitation operation on Tuesday and Wednesday, according to a DCSO news release. Law enforcement conducted undercover online chats using personal ads, covert social media and other online communication platforms to communicate with adults looking to have sex with a minor under the age of 17.
Ten men agreed to meet at a location in Denton, but instead of a child, they were met by law enforcement and arrested on suspicion of online solicitation of a minor, the news release said. Three others agreed to meet, but did not show up. Warrants will be obtained for them.
One suspect brought what is believed to be drug-laced gummy bears, and another received an immigration detainer from ICE, according to the news release. Five of the suspects live in Denton County, and the others live in nearby counties.
"This operation was a huge success," said Sheriff Tracy Murphree. "I am extremely proud of all the dedicated officers that worked long hours to take these predators off the street … This type of operation should open the eyes of parents and other citizens to the dangers that lurk on the internet. We will continue to be vigilant in our efforts to protect our most precious resource, our kids."
The operation was carried out by the Denton County Sheriff's Office, Texas Department of Public Safety, Denton Police Department, University of North Texas Police Department, Tarrant County Sheriff's Office, FBI, Fort Worth Police Department, Wylie Police Department, HSI, Dallas Police Department and US Navy NCIS.