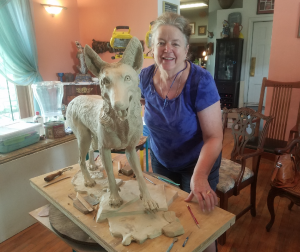 By Elizabeth Brannon
From starting life as a little girl who loved to play in the mud to becoming a gifted teacher, local prize-winning sculpture artist and proponent of Flower Mound public art, Sweety Bowman is joyously at work creating three of the sculptures that will be installed in the Heritage Park Nature Encounter Trail later this year.  The sculptures will be anchored for safety and be child friendly.  When the nature trail opening event happens, animals will be found by following their bronze footprints.
Earlier this year, the students in LISD were given an opportunity to have input on which animals were a good representation of the town and were favorites of the students. There will be thirteen bronze animals in total in the Nature Park Encounter Trail, and Sweety is creating the bobcat, the armadillo and the coyote.
One goal is to show the animals' actual size, in a natural habitat.  Sweety has many additional goals in creating this public art, some of which are practical – the art must be safe for children, durable, low maintenance, rust-proof and shed water.  Sweety reminds us of the ancient bronze works of art that exist today.  Sweety's art must also be inspired and allow the artist and the animal to speak to the observer, but without words.
As Sweety researched these animals, she read, watched video, studied poses of animals, talked with hunters, and just walked on trails where she was likely to encounter some of the animals she's creating. A coyote actually ran in front of her one night.  If you talk to Sweety today, she'll tell you each of these animals has a personality and a pose.  The bobcat is resting, but alert, playing with a twig and about to get up.  The Armadillo is hungry, but Sweety says it's hard to make an armadillo look hungry!  The coyote is the jester of the three, energetic, hungry, alert, in a trotting pose, with an open mouth, visible claws and well attuned to the environment.
Sweety says playing in the dirt and the mud has been a lifelong source of joy and focus, and is still bringing her thesis – on the unity of bronze and clay – to life. She took ceramics in college and realized clay is magician material and a great impersonator.  With clay an artist can show a huge amount of detail.  As she began to create these animals, Sweety took into account various poses, the countenance of the animals, and what they might look like at various time during a year. Sometimes the finished bronze is wire-brushed to create shiny places or has chemicals added to make color variations that bring the sculpture to life. Sweety says it's very exciting to be contributing to the public art of Flower Mound.
Sweety has other public art on display in Denton County – at North Lakes Park.  Sweety created the leap frogs and she said one of the great things about outdoor sculpture is that pieces take on their own identity and can become landmarks.   Have you ever made plans to meet at the statue?  Sweety hopes her contributions to the Flower Mound park will be fun landmarks where people will meet and enjoy the art.
For photos of the progress being made on the sculpting of the animals, and a little more explanation of the sculpting process, go to the Town of Flower Mound Parks and Recreation page on Facebook: facebook.com/FlowerMoundParksAndRec
Elizabeth Brannon serves on the Flower Mound Cultural Arts Commission.