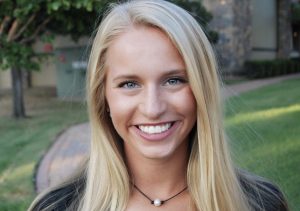 Riley Brooks believes in being active at her school.
The Guyer High School rising senior was a Social Officer in the Student Council this past school year, a member of the National English Honor Society, violinist in the Scherzo Orchestra and is the 2019 Class President for the second straight year.
"Getting involved just seemed like the natural thing to do," Brooks said. "I love being involved with different organizations and working with people that I wouldn't meet in my daily block classes. I believe the more involved you are, the greater pride and respect you will have for your school and the better memories you will make."
Brooks, 17, said that her favorite organization of all is the Student Council.
"It is such a special group of students," Brooks said. "The bond I have with my fellow members and sponsors is pretty remarkable for a group of high school students. I love working with everyone to improve our school, community, and each other.
"I'm so honored to be surrounded by so many intelligent, diverse, passionate change-makers who love Guyer just as much as I do. There's nothing like that group. They're my school family."
Brooks said she actually had to quit the softball team this season to devote more time to school and other activities, recognizing she was being stretched too thin.
"It was a difficult decision, because I love my teammates and coaches very much and have played the sport my entire life," Brooks said. "But, ultimately I decided my focus needed to be academics. Between participating in Student Council, AP classes and softball, while still having a social life outside of school; it became too much.
"It was sort of the first adult decision I had to make pertaining to my future, where the answer wasn't necessarily what was more fun, but what would carry me into the next chapter of my life."
The Lantana teen carries a 4.6 grade point average and is ranked 41 out of 617 students in her class at Guyer High School.
Brooks said she is thinking about college and a career, but is going to take her time to figure out exactly what she wants to do with her life.
"I'm not positive what job I will have as an adult, but I want to study Marketing and Management in college," Brooks said. "I thrive in leadership positions, where I am actively working with people, so I believe a major like that will introduce me to opportunities, where I can surround myself with successful people who will challenge me."
Brooks' Favorites
Favorite Subject: English
Person that Inspires Me Most: My mom
Favorite Food: Sushi
Favorite Movie: 42
Favorite TV Show: Scandal
Last Book I Read: Commonwealth
Favorite Artist: Bruno Mars