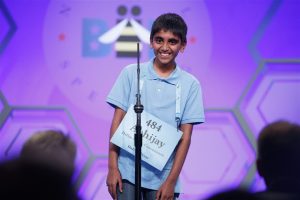 by Madhuri Bandla, Contributing Writer
A Flower Mound fifth-grader made it all the way to the pinnacle of spelling bees and almost won it all.
Abhijay Kodali, 11, who just finished fifth-grade at Liberty Elementary in Flower Mound, qualified for the Scripps National Spelling Bee for the first time and tied for third place. He took home $15,000 in prize money.
Qualifying for the Nationals is a journey that demonstrates hard work and perseverance, in addition to spelling words that would intimidate most adults.
Abhijay was the champion at the school-level Bee, the LISD Regional Bee (high school), LISD Bee and then the Denton County Bee, before he made it to the Dallas Regional Bee. He was a co-champion at the Dallas Regional Bee and advanced to the Scripps National Spelling Bee in June.
He spelled words like Kiddush, nemathelminth, Scarabaeus, Petchary, coriaceous, Mysticete, Derailleur, Oneirocritic, Myelopathy, Carditis, Cantico to make it to the nationals.
At the Nationals, Abhijay enjoyed his interactions with fellow spellers and believed the best experience of the competition was meeting new friends, exchanging email addresses, getting their signatures and forming spelling groups to stay in touch.
He spelled words like whyos, nemosyne, millefleurs, ceinture, pseudepigrapha, jacana, Lakenvelder, Bundestag and tapissier, to tie for third place in the final round before falling on the Hawaiian word "aalii" (an ornamental shrub or small tree).
Interestingly, both the first and second place national winners are from North Texas.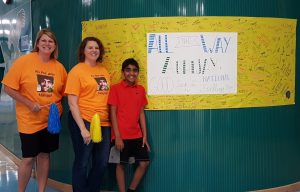 Abhijay's sister, Ananya Kodali, was both his inspiration to participate and his spelling coach who helped him in his win. Ananya recently completed 10th grade at Marcus High School and is all set to join the Texas Academy of Mathematics and Science (TAMS) at the University of North Texas.
Ananya placed second in the 2015-2016 Dallas Regional competition, which sparked Abhijay's interest. She helped in preparing spelling lists and quizzing Abhijay to victory.  Abhijay spent more than two-to-three hours a day in the last six months in spelling related activities; delving deep into understanding word roots and language patterns. Sibling teamwork– coupled with diligence and determination– seems to have been the mantra to his win.
Abhijay enjoys playing tennis and is an avid reader. His favorites are the Harry Potter series and books by Percy Jackson.
"He also enjoys watching basketball and football and can recite scores from games, even from a few years ago," said his father, Krishna Kodali, who added his son's favorite teams are the Dallas Cowboys and Cleveland Cavaliers.
Abhijay, who is heading to McKamy Middle School this August, has fun playing with his friends and his current career aspiration is to become a pediatrician.