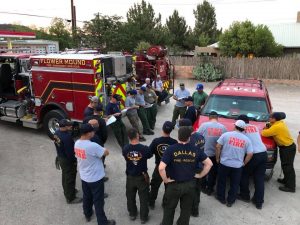 Flower Mound Fire Department personnel have brought back new learned techniques from deployments last month to help battle wildfires.
Eleven Flower Mound firefighters were deployed as part of the Texas Intrastate Fire Mutual Aid System with four different strike teams this spring, including two strike teams in May, according to FMFD spokesman Brandon Barth. Several went to the Davis Mountains in far west Texas from May 2 to May 10 to help contain the McDannald Fire, which ended up reaching about 20,000 acres in size. It was about 15-percent contained and about 70-percent contained when they left.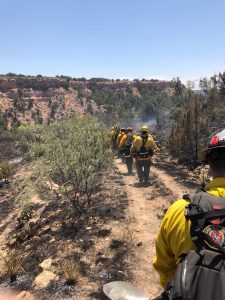 TIFMAS is a state program that utilizes local firefighters from around the state to provide aid when a fire — or other natural disaster, such as a hurricane — is too much for the local authorities. The state reimburses the town for the deployed firefighters' overtime, as well as overtime required to cover their shifts.
"TIFMAS is a good group of guys who put the time in to learn the trade and show that we can do the job," Odneal said.
Some of those firefighters and others joined another strike team that fought the 400-acre Mechler Fire and another smaller fire in rugged terrain around the Palo Duro and Caprock canyons in the Texas Panhandle.
"At one point, we were close to 7,000 feet elevation, making sure the fire couldn't jump into an unburnt area," said Capt. Curt Odneal. "The next day, we were down in a canyon."
Engineer Brody Eakin said the local firefighters used chainsaws to cut brush, trained in wildland tasks and walked the perimeters of the fires to contain the flames alongside about 500 firefighters on the McDannald Fire and about 40 on the Mechler Fire. Eakin and Odneal said they were happy to help out with the wildfires, and the experience will help them with their day jobs in Flower Mound.
"We've brought the techniques we've learned out of the county tp use in Flower Mound," including the use of bulldozers, burnout operations and chainsaws, Eakin said. "It's made our department sharper and better at fighting wildfires in town."
"It gave us the opportunity to work in different terrain and hone skills for when something happens in Flower Mound, we are capable of taking care of it," Odneal added.