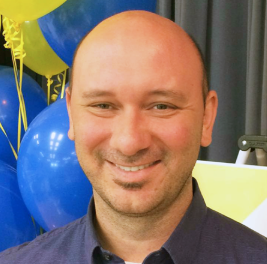 The Lewisville Independent School District announced Wednesday that it has appointed a new principal of Vickery Elementary School in east Flower Mound.
Adam Gray, who has been principal of Polser Elementary School in Carrollton since 2014, will be the new principal of Vickery Elementary, according to a LISD news release. Gray replaces Patricia Cheatham, who took a central administration position in Coppell ISD.
"Vickery Elementary has a tremendous reputation and an amazing school culture," Gray said. "I look forward to partnering with students, staff and parents to take Vickery to even greater heights."
Before he became principal at Polser Elementary, Gray served as an assistant principal at Peters Colony Elementary and Hedrick Elementary. While at Peters Colony, Gray was named LISD's Assistant Principal of the Year in 2014, according to the school district. Gray joined LISD in 2008 as a third-grade bilingual teacher at Hedrick Elementary, a position he served for three years before moving into an administrative role. He was also a bilingual teacher in Castleberry ISD and District of Columbia Public Schools. He also taught in Chile and Japan for nearly five years.
During the 2017-2018 school year, Gray was named a finalist for LISD's Elementary Principal of the Year.
"Adam Gray is a proven leader, as he's shown throughout his career in LISD," Superintendent Dr. Kevin Rogers said. "I'm confident Vickery will continue to thrive under his direction."
Gray received his bachelor's degree in English literature from The Ohio State University and a masters in Teaching English to Speakers of Other Languages from American University. He also received a masters in Educational Leadership from the University of Texas at Arlington. Gray holds a certification in Principal (EC-12). He lives within the LISD borders with his wife and their two children.