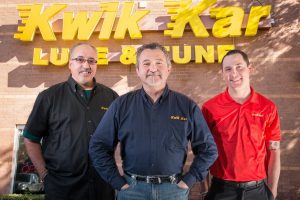 by Albert Gutierrez, Operations Manager, Kwik Kar Flower Mound
We depend on our vehicles much more than we realize until something happens to our trusted ride. That's why it is so important to not only purchase a dependable vehicle, but also to find a reliable mechanic you trust to help keep you safe and on the road.
The best rule of thumb is to begin looking for a great mechanic before your car needs one. To assist in your search, here are some guidelines you can use to help ensure you make the best possible choice for you and your vehicle:
Ask for Recommendations – Businesses who depend on their delivery services work hard to secure a good mechanic so they can stay on the road. Ask a delivery driver you know who they use to service their fleet. Or, if you are a member of AAA, ask them who they would recommend in your area based on the feedback they have received from other members. You can also ask your circle of peers who they would recommend.
Look for Reviews – There are numerous review sites available where you can investigate local businesses, including repair shops. Look for multiple positive reviews and then read the bad reviews to gain insight into how they do business.
Do a Trial Run – Take your car in for a small, routine check-up so you can properly assess the way the shop operates. Is it clean? Is their customer service acumen up to your standards? Did they service your car in a timely manner? Is their pricing comparable to other service centers? It's always best to try out a shop first for something minor before deciding on a long-term relationship.
Know What to Ask – You want a mechanic who is knowledgeable about your specific make and model. Do your own research first to discover common issues that could arise and the preventative maintenance your car needs to continue optimum performance. As you ask them about your car's specific needs, having that knowledge will help you listen for key issues and recommended services so you can verify that the mechanic really knows about your specific vehicle.
Look for Certifications & Memberships – The National Institute for Automotive Service Excellence (ASE) has an in-depth certification process that verifies mechanics are knowledgeable about specific types of vehicles. Also, the Automotive Service Association (ASA) for shop owners has been compiling information on members since 1951. If they have an ASE certification, or a high ASA rating, that will help confirm they really know what they're doing.
Ask for a Warranty – If a shop trusts their mechanics to do outstanding work, they should have no problem offering you a warranty on the work they do. If they cannot guarantee the services they provide for any length of time, you might be better off with another repair shop.
At Kwik Kar in Flower Mound, we truly want to be your car's favorite neighbor. If you are looking for a trusted mechanic or need a second opinion regarding your vehicle's current maintenance needs, we encourage you to stop by. We know how much you depend on your vehicle, so we want to be someone you can depend on as well!