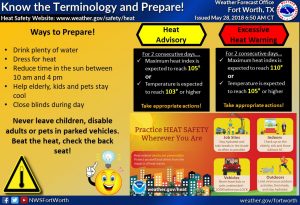 The heat is on this week, with high temperatures rising towards the century mark in southern Denton County by the end of the week.
The combination of heat and humidity will make it feel even worse. Heat indices will approach 102-106 degrees.
Be sure to exercise appropriate heat safety through this hot stretch (also known as summer in Texas).
If you have outdoor activities planned, don't overexert yourself, drink plenty of water and if possible, take break in the shade or in an air-conditioned area.
Check the latest forecast here.