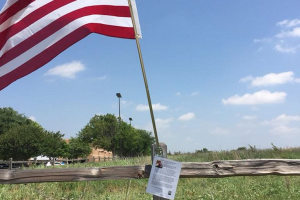 The community is invited to a short event on Memorial Day to retire the colors to Taps on The Flower Mound.
The Mound Foundation will observe Memorial Day with citizens, veterans, the Flower Mound Police Department color guard, Flower Mound Fire Department color guard and two Flower Mound High School trumpeters as the flags are taken down to the traditional bugle call, "Taps."
The third annual event will start about 8:15 p.m. Monday at the Mound, 2450 Flower Mound Road, according to a news release. The color guard will begin to retire the colors about 8:30, right around sunset.
Spectators are asked to stay below The Mound, standing either along the sidewalk or in the Tom Thumb parking lot, so that only the color guard is at the summit.
The Flower Mound Summit Club has installed 20 flags along the Mound's frontage on FM 3040 dedicated to heroes who fell after their service, due to struggles with PTSD.
The public is welcome to attend the event, but all are urged to apply bug spray because it is chigger season.
Click here for more information.