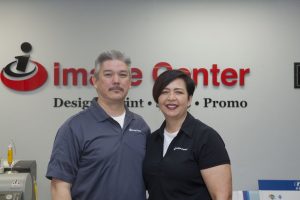 Whether at his business, on a high school field, or out in the community, Eric Diaz likes helping people succeed.
He does so on weekdays at Image Center, his Flower Mound company that handles any job related to printing and signage. Opened in 2007 under another name, it went independent and was rebranded in 2016. A move right around the corner has allowed the business to focus on clients big and small.
"We're doing more graphic design work and promotional products now," Diaz said. "Basically, we have become a company that helps other companies market, advertise or brand their business."
Image Center focuses on marketing and business-to-business collateral including promotional products, items for trade shows and events and direct mail.
"We are trying to become more involved with businesses," Diaz said. "In fact, we like to say 'your image is our business.' We try to help people refresh their marketing collateral or their signage."
Image Center handles everything from business cards to outside building signs, like the ones on Crossfire Defense Academy and Range in Flower Mound and on the Marcus High School band semi-trailer trucks.
When not helping businesses, Diaz assists young high school football players. After serving nine years as an assistant coach at Prestonwood Christian Academy in Plano, he's switching to Argyle's Liberty Christian School where he'll help the offensive staff this fall.
Diaz and wife Michele also can be found serving the community; she on the board of directors of the Cross Timbers YMCA and a member of Cross Timbers Rotary, and he sits on the boards of Youth and Family Counseling and Denton County Friends of the Family. It's activities like these that have kept both busy, since her company moved her from California in 2004. A couple of years later, she left that position to work with her husband fulltime making it truly a family business.
"I enjoy working with people and helping them," said Eric, who worked for an industrial supply business and coached football in his native California. "During the day it's helping businesses grow and during football season it's helping build young men through the game of football."
Learn more about Image Center at imagecentertx.com or call 972-355-8900.