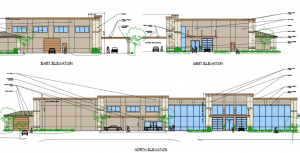 Flower Mound's first car dealership recently broke ground with hopes of opening up for business before 2019.
Public Auto Brokers, currently located at 1425 Justin Road in Lewisville, broke ground last month on its future used car dealership in Flower Mound, at the southeast corner of Justin Road and Stone Hill Farms Parkway.
The business received initial approval from the town in 2016, but it took about 27 months to get a redesign fully approved, said Paul Bosco Jr., the dealer's principal. Public Auto Brokers is currently getting its utilities installed, and building construction is expected to start next month.
"We're shooting for opening at the end of the year," Bosco said Friday.
The local dealership will have 300 parking spots and will have a wide array of vehicles for sale, Bosco said. The shop will also provide a wide array of services, he said, "from brake repair to full motor swap."
Bosco, who was born and raised in Denton County, said he wants the business to give back and support the local community.
"I want to support the people who are supporting us locally," he said. "We chose Flower Mound so we can become a part of the community."
On the same side of the road, between Long Prairie Road and the future dealership, is a stretch of vehicle-related businesses: Pro Care Collision, Speedy Bee Express Wash, Celebrity Car Wash and Maintenance Center, Discount Tire Store, RaceTrac Gas, Valvoline Instant Oil Change, Christian Brothers Automotive, NTB National Tire and Battery and O'Reilly Auto Parts.