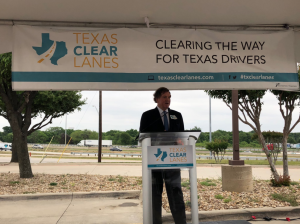 The Texas Department of Transportation will soon begin a 4-year construction project on the Hwy 121 interchanges at I-635 and FM 2499.
Construction crews will begin the $370-million project sometime this summer in an effort to clear up the bottleneck on Hwy 121 between I-635 and FM 2499, said TxDOT spokesman Michael Peters. The estimated completion date is in 2022.
Crews will rebuild and widen a three-mile stretch of Hwy 121 north of DFW Airport. One lane will be added to each direction.
New interchanges will be constructed at Hwy 121 and I-635, and direct connectors will be expanded from one to two lanes.
The direct connectors for FM 2499 at Hwy 121 will also be rebuilt to accomadate the expansion of 121, and they will be made wider so that a third lane could be added in the future as demand increases, Peters said.
The Bass Pro Drive bridge over 121 will be widened and reconstructed, as well as the frontage roads at Bass Pro Drive. All of the construction work will aim to improve mobility and safety in the heavily-trafficked area, Peters said. The project is a part of the Texas Clear Lanes initiative, which was created to address traffic congestion in metro areas in the state.
While TxDOT is preparing to begin this project, it just celebrated the completion of a nearby construction project. TxDOT held a ribbon-cutting last week for a significant portion of its Hwy 121/360 interchange project.
The newly-completed portion, a $61 million project in Grapevine, was finished seven months ahead of schedule, according to a TxDOT news release. The project added new direct connectors for Hwys 114, 121 and 360 to minimize weaving, reduce congestion and improve safety.
The 121/360 interchange was the first Texas Clear Lanes project to start construction, part of a $3.8 billion congestion relief initiative provided by Governor Greg Abbott and the Texas legislature to reduce gridlock in some of the state's most congested areas.
"We are on an accelerated pace to address the state's most congested choke points and to get new roads built quickly," said Chairman J. Bruce Bugg. "This is part of an historic investment in our state's transportation infrastructure. These projects will improve drive times, reduce costs to Texas drivers, and improve our quality of life."
The 121/360 interchange improvements were included in the original $1.6 billion DFW Connector project, but funds were not available at that time to deliver the entire scope, according to the TxDOT website. When congestion funding became available for these improvements in February 2016, TxDOT and NorthGate Constructors negotiated a plan to rebuild this portion of the original project.