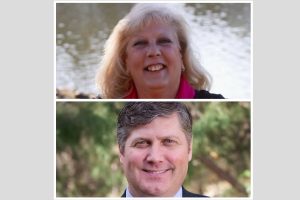 Election Day has come and gone, but the Flower Mound mayor's race is not over yet.
No one candidate in the four-way race reached over 50% of the vote, so the top two vote-getters, Steve Dixon and Cathy Strathmann, are headed to a runoff election in June.  (Meet the candidates here.)
Dixon and Strathmann deadlocked with 43 percent of the vote and were separated by only 10 votes.
Steve Dixon – 2,131 votes, 43.3%
Cathy A. Strathmann – 2,121 votes, 43%
Paul Stone – 529 votes, 10.7%
Bill Robinson (withdrew, but remained on ballot) – 146 votes, 3%
"I want to thank all of my supporters and I promise I will continue to run a respectful and positive campaign for Flower Mound," said Dixon. "Lets all come together to finish this race."
Strathmann was not immediately available for comment but posted the following on her Facebook page: "Thank you to everyone that came out to vote. I appreciate the support so much. I am so proud of Jim Engel and Sandeep Sharma. You guys rock! I will be asking for your vote one time on June 16th. There will be early voting too. Stayed tuned. Time for a little rest."
Stone is expected to announce which candidate he will endorse in the next couple of days.
This is the first mayoral runoff in Flower Mound since 1992 when Larry Lipscomb unseated Gary Acker.  The last runoff election was in 2004 between council members Laurie Long and Lori DeLuca.
The runoff election will occur on Saturday, June 16. Early voting dates have not yet been announced.