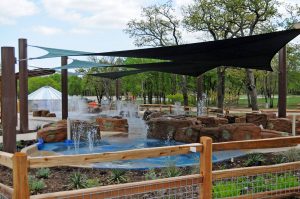 The town of Flower Mound is temporarily closing its newly-opened splash pad at Heritage Park to address safety issues.
Town staff will make improvements to the decking to eliminate slipping, according to a town news release. The closure starts Tuesday, and the town aims to have it back open by Friday.
The splash pad became open to public use on Saturday.
The town has received questions from safety-concerned parents about the man-made boulders that are a part of the splash pad. In the news release, the town explained that the boulders don't have any pinch points or entrapment concerns, and the town asked parents to help enforce the rule of no climbing on the boulders, which are meant to be seating for parents.