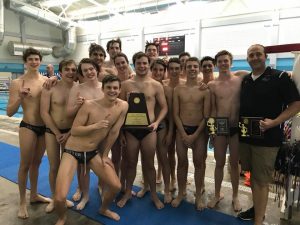 John English contributed to this report.
Several local high school water polo teams recently qualified for the state tournament as Guyer High School took the double regional title.
Two dozen North Texas teams competed last weekend at the Regional Water Polo Tournament in Lewisville, and the top four finishers on both the boys' and girls' sides are advancing to the state tournament.
In the girls' competition, Guyer High School came in first place, followed by Southlake-Carroll, Flower Mound and Marcus high schools. On the boys' side, Guyer also came in first place, followed by Flower Mound, St. Marks and Southlake-Carroll.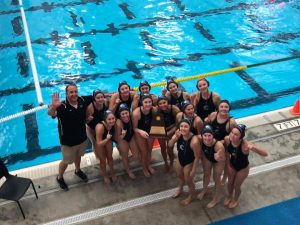 Many local students were also named to the All-Region teams. On the girls' side, Guyer Senior Katherine Cullen was named the MVP, and her teammates Lexi Wong, Carley Manuel and Presley Woods were also named to the All-Region first team, as were Marcus Senior Madison Taylor and Flower Mound Senior Brooke Le. On the boys' side, Guyer Sophomore Cameron Cullen was named MVP and his teammate Nathan Wong was also named to the All-Region first team, as were Flower Mound teammates Rylan Lantz, Max Wade and Brady Andrews.
The Guyer High School water polo program continues to hover around the top of the state rankings, and this season has been particularly impressive for the program's first family.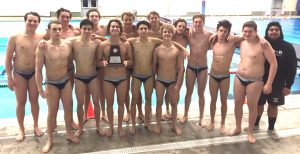 Guyer coach Chris Cullen was named North Region Coach of the Year, while son Cameron and daughter Katherine were selected as the region's boy's and girl's most valuable players respectively.
Cullen said it meant a lot to him to see his children honored in such a way and said that the sport of Water Polo has brought them closer together.
"I was very proud of them," Cullen said. "All the hours in the pool have definitely paid for off them. The time we spend together at the pool, on the way to the pool and talking and watching water polo has been a positive part of our lives. It has made us closer in and out of the water."
The Guyer boys and girls are both top seeds in the North Region and the girls team is undefeated (24-0) heading into the state tournament.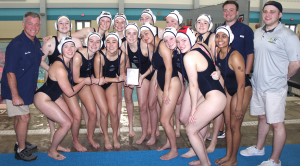 The boys team is 15-3-1 heading into the state tournament, and Cullen said this season featured a first for his boy's program.
"Everything is going great," Cullen said. "Our only losses are to St. Marks and Flower Mound, which finished one and two at state last year and the games were close. The boys beat St. Mark's for the first time ever this season. The tie we had was against Flower Mound."
Katherine Cullen has signed to play for Pomona Pitzer College in Claremont, California, which is currently the top-ranked Division III NCAA water polo team in the country.
The Texas State Water Polo Championships will be held May 4-5 on the campus of the University of Texas at Austin.