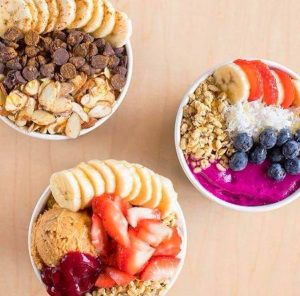 Realty Capital Management, LLC, developer of Lakeside, announced that Colorado-based health food restaurant Rush Bowls is coming to The Shops at Lakeside at FM 2499 and Lakeside Parkway in Flower Mound this summer.
Rush Bowls will be located at 2400 Lakeside Parkway, Suite 160 across from the Lakeside Music Series and next to Martinizing Dry Cleaning and Majestic Nail Spa.
"Rush Bowls is a unique fast-casual concept in that their number one priority is 100 percent all natural nutrition, which makes them different than other grab-and-go concepts," said Jimmy Archie, Developer for Lakeside. "I think the residents of Flower Mound are going to love the convenient and healthy nature of their product."
Rush Bowls offers meals crafted from all-natural fruit, topped with organic granola and honey, and blended with protein, vitamins and other nutritious ingredients that taste delicious while promoting a healthy lifestyle. Customers can choose from over 40 signature bowls or all-natural smoothies made with fruit and vegetable bases, including acai, kale and avocado.
"With Lakeside's success to date and the recent zoning approval of Lakeside Village, we are thrilled to join the project," said Michael Fuchs who owns and operates this Rush Bowls location with his wife, April. "The town's commitment to the continued growth of Lakeside, along with the great collection of businesses that are already there, were two primary factors in our decision to choose this location."