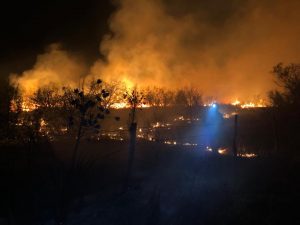 Local firefighters are on the move from West Texas to the Oklahoma border after being deployed to fight large wildfires.
Flower Mound and Highland Village firefighters were deployed Thursday to West Texas as part of the Texas Intrastate Fire Mutual Aid System and part of a larger strike team that also included members from the Lewisville, Lake Cities, McKinney and Plano fire departments, according to the town of Flower Mound.
The local firefighters were originally sent to Merkel, just west of Abilene, as part of Strike Team 114 to provide support during historic fire conditions that were forecast in the area for Thursday and Friday.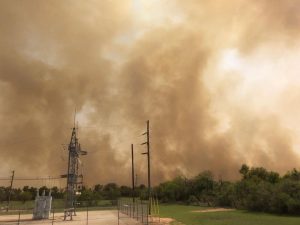 Strike Team 114 was deployed Friday afternoon to a large fire in Jones County, near Abilene, according to the Flower Mound Fire Department. Two bulldozer crews accompanied the strike team and they joined other local and state resources at the fire. When Strike Team 114 was deployed to the fire, which was dubbed the 335 fire, the fire had reached a size of about 1,000 acres and was 30 percent contained.
Strike Team 114 remained on scene at the 335 fire until early Saturday morning, and returned to it later Saturday, according to FMFD. That night, the team was demobilized and went to Sweetwater –40 miles west of Abilene — where they were on standby to deploy to Quanah — about 100 miles north of Abilene, near the Oklahoma border — for a large fire spreading in Oklahoma. The 335 fire was fully contained Sunday at 2,625 acres.
According to an update from FMFD late Monday afternoon, Strike Team 114 has left the Abilene area and was headed to Wichita Falls to await another assignment.