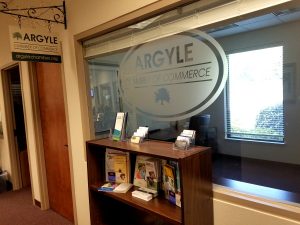 After 21 years of promoting local businesses, the Argyle Chamber of Commerce is no more.
The chamber's board of directors announced last Friday via email to members that they unanimously agreed to the dissolution of the organization.
"This decision was not easy, however it was clearly necessary due to the declining trend of receipt of membership dues and participation," the email stated.
In 1997 the Argyle Chamber of Commerce was organized by Argyle residents Steve Ruffner, Bill Smith and Richard Tucker to encourage and promote economic growth while maintaining the town's rural atmosphere and way of life, according to Argyle historian Lynn Sheffield Simmons.
The organization held monthly networking events, holiday parties and a new teacher appreciation breakfast for the Argyle ISD and Liberty Christian School.
Membership fluctuated widely over the past decade, ranging from a low of around 30 to 175 members just a little over a year ago.
During the past several years, the Argyle Chamber has focused on philanthropic initiatives by donating half of the revenue from its major events to nonprofits. Annual events such as Taste for Good, Give Back Golf Classic and Thanksgiving Give Back Networking Lunch generated nearly $50,000 for local charities.
Under IRS rules, the chamber upon dissolution can donate any remaining funds to local charities.
The email stated that the chamber asked the Northwest Metroport Chamber of Commerce to host a meet and greet event for displaced members on Monday, April 23, from 4-7 p.m. at Argyle Town Hall.
The Northwest Metroport Chamber is comprised of seven cities and towns: Argyle, Haslet, Justin, Northlake, Roanoke, Trophy Club and Westlake. Argyle joined in 2015 to help market the town to the growing I-35W Alliance corridor.