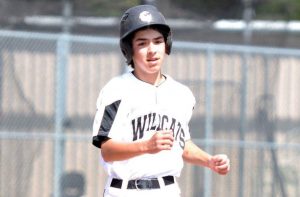 Jake Goldberg's participation in the sport of baseball taught him a lot in his first year of high school; including a lesson about having balance in life.
That is one of the reasons that the Guyer High School sophomore also takes Pre-AP classes at a school he has already grown to love.
"I think the best thing about Guyer is the teachers," Goldberg said. "They really look out for us and are always willing to help with anything we need. So far, it's been the best thing about the school."
Goldberg, 15, has maintained a 4.3 grade point average during his freshman year, while playing high school and select baseball and said his favorite sport has taught him more about life than just winning or losing.
"I really like baseball," Goldberg said. "I am really starting to understand the importance of a team and how everyone contributes. I also enjoy spending time with my brothers."
The Lantana teen said he already feels like he knows what he would like to do for a career one day, based largely on the pursuits of an older sibling.
"I would like to be involved in sports," Goldberg said. "My older brother graduated from the University of Texas with a degree in Sports Management and he works for the Cowboys. Working with a team would be very interesting."
Goldberg said of all the great things about being a young person today, one stands out above the rest, which he said has made life a lot easier for his generation.
"The best part of being a teenager is our ability to have access to so much information so quickly," Goldberg said. "My mom and dad tell me that we are so much smarter than they were at my age, because of the ability to get information so quickly. I think that is pretty cool."
Goldberg's Favorites
Favorite Subject: Geography or History
Person who most inspires me: Mother and Father
Favorite Food: French Fries and anything my mom makes
Favorite Movie: "La La Land"
Favorite TV Show: "The Office"
Book you are currently reading: "The Tempest"
Favorite Musical Group or Performer: Frank Ocean
Nominate your student for this monthly feature brought to you by Texas Health Presbyterian Hospital Flower Mound by emailing [email protected].