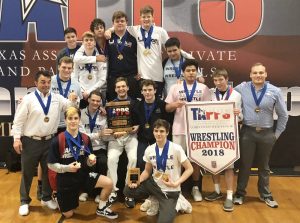 Liberty Christian wrestling coach Mark Smith is focused on building the program for the future. And the icing on the cake is that plan is already paying huge dividends on the mat.
Along with the leadership of coaches Hunter Field and Zak Bowles, the Warriors capped another strong year with two team state titles and six individual state crowns during a month-long tour across the nation facing the best of the best at four different events.
Leading that charge was a trio of stars, including two freshmen, who all won multiple state titles.
"I hold these guys to a different standard," Smith said. "To have these guys compete at a high level at state and national events during a four-week period is a testament to how hard they work. They go out there and take it on the chin every week, and that's difficult to do at that high of a level."
Coach Smith added, "Our future is there. These young guys believe in the process."
That process was certainly grueling. The Warriors started their championship stretch by winning a team title at the Prep State Duals on Jan. 19 at Bishop Lynch High School. Liberty cruised to the top spot with wins over Houston Kinkaid, Trinity Christian Academy in Addison, and Houston St. John's.
From there, the Warriors went to the Prep State meet in Houston on Feb. 3 and took home three individual state titles thanks to monster efforts from junior Karston Johnson and freshmen Skylar Smith and Braeden Baller. All three would double down on their first-place finishes by winning state titles at the TAPPS State Championships on Feb. 17 at McKinney Christian Academy.
Skylar Smith was also named Outstanding Wrestler at the TAPPS tournament, and Liberty won the team title by more than 20 points over the second-place finisher. Overall, five Liberty wrestlers finished in the top two of their respective weight classes at the TAPPS meet.
This is the third straight year Liberty has won the TAPPS state title.
"Everyone did a tremendous job," coach Smith said. "It's such an important tournament for the school as a whole, and out of the 13 boys we took to TAPPS, all except one placed in his weight class."
But Liberty wasn't done yet. On Feb. 22, the team boarded a plan to Pennsylvania to compete at the Prep Nationals event at Lehigh University. Smith took six wrestlers to that event, including Johnson, Skylar Smith, Baller, Christian Pikett, Ethan Wilson, and Jake Ramsey.
"The cool thing about nationals is that we were able to take the freshmen," Smith said. "We had never done that before, and it was great to get them that type of experience."
Coach Smith added, "We also managed to get some sixth graders to win state titles this year. The Middle School program is just as important, and it shows the future is there. So long as these boys keep it together over the long haul, the future is bright."