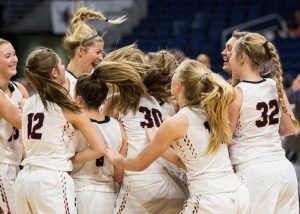 By Stacy Short
As one of only sixteen schools in UIL history to win four championship games in a row, the Lady Eagles controlled the momentum and the game to come out on top and become the UIL Division 4A state champions at the Alamodome in San Antonio, TX on Saturday, March 3. Argyle defeated Veterans Memorial 60-41.
"It's just an incredible accomplishment for this group of girls," head coach Chance Westmoreland said. "Winning four in a row feels so special, but it's just all about this team winning this year. Even though it did extend the streak, I think this a complete new era."
This year, the players all had to adapt and adjust to one another, but according to Westmoreland, they all came together at the right time.
"We got off to a fast start," he said. "They responded, they were ready to play, they were locked in, and that helped us win the game today."
During the state semifinal game against Houston Wheatley, sophomore Sydney Standifer, who traditionally has high scoring games, was not able to deliver, but she turned that around today.
"Yesterday, I was a little bit nervous," she said. "The lights were kind of bright, but when we were coming in and shooting around in our warm-ups [today], I just knew it was so much different."
Sydney ended up earning the MVP award for the state final game as lead scorer at 22 points, including several 3-pointers and seven free throws.
"We all had to play together, and everyone had to contribute," Sydney said. "I feel like those [early 3-pointers] helped the team to get off to a good start."
According to Sydney, she and her sister, senior Gabby Standifer had "always dreamed of winning a state championship."
"I wouldn't have wanted it to end any other way, and everything just paid off, " she said, "and I'm just so happy I got to do it with my sister."
The Standifer sisters and sophomore Ryle McKinney scored 56 of the 60 winning points, which has been a key part of winning games this season.
"When you have three girls that score, you are definitely pretty lethal," Westmoreland said. ""Great players make great plays, and it's been that way all year long with these three."
Westmoreland plans to be in the mix next year as long as the team competes and works hard.
"As long as you have championship DNA, you have a chance to be successful," he said. "That's what we have here at Argyle, and we carried that over again and were able to get a championship this year."
Gabby says she is both overjoyed and sad with this being her last game, but she has a message for her teammates for next year.
"Work as hard as you can, and in the end, all your hard work will pay off," Gabby said. "Always stay humble and compete, and obviously it just pays off."
The @AHSLadyEagles complete the four-peat, winning the Conference 4A #UILState Girls Basketball Championship. pic.twitter.com/XBUpu5FxkN

— Texas UIL (@uiltexas) March 4, 2018
@AHSLadyEagles with the 4-peat!!!! 60-41 over SA Memorial! #champsagain @ArgyleSports pic.twitter.com/MSNojAeoee

— James Hill (@hill_james1) March 4, 2018
Congratulations Coach Westmoreland on your team's UIL State Championship win. It's been a wonderful journey! #statewin pic.twitter.com/1HkafmQ3F8

— The Talon News (@TheTalonNews) March 4, 2018
The three seniors & state champs from @AHSLadyEagles leave an amazing legacy (from left):

Morgan Yarbrough – 3 gold medals
Leighton Eschle – 4 gold medals
Gabby Standifer – 3 gold medals & a State Finals MVP

Thank you for a thrilling ride and you'll be missed! pic.twitter.com/gdyvEfJFyw

— Argyle Eagles (@ArgyleSports) March 4, 2018