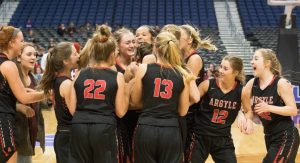 by Stacy Short
After a "hot" start by opponent Houston Wheatley in the state semifinal game, the Argyle Lady Eagles rallied in the second half to win with a final score of 62-46 and will now play in the championship against Veterans Memorial from Judson ISD on Saturday at 7 p.m. in the Alamodome, San Antonio.
"[Wheatley] just got extremely hot the first half," Lady Eagles head coach Chance Westmoreland said. "I think we were up four to nothing, and then the next time I looked up and they were up by eleven."
Argyle's comeback in the second half resembled several previous games in the season, setting the stage for an excellent semifinal game.
"Offensively, they were a lot like Dallas-Lincoln, but I believe our district schedule prepared us for this because we had also played Frisco Lonestar, Prosper, and we played a tough schedule," Westmoreland said, "and they were just really explosive at the beginning, much like Dallas-Lincoln, and they played great, but we just have a good team."
In a frustrating first half where senior Gabby Standifer was face-guarded a lot, and struggled with scoring, she was able to figure out what she needed to do better for the second half.
"They had one of their best defenders on me, and the only time I scored was when I drove," Standifer said. "So, I knew I just needed to do that, and just drive in get fouled, and in the end, free throws won it for us."
At the half and down by 11 points (19-8), and only 25 percent on field goals, Westmoreland reminded the team that they still had a "whole other half to win" the game.
"I said, 'Hey! Do ya'll think you can win this game?" Westmoreland said at the half. "They said, 'Yes!', so that's what we did."
With it being the first time a Houston ISD school made the final four since 1983, they proved to be a strong adversary for the Eagles. Westmoreland credited Wheatley with stature and momentum.
"In the first half, nothing was falling for us," sophomore Rhyle McKinney said. "Coach was telling me I needed to keep driving in and my shots would fall, so that's what I did, and he was right."
Westmoreland took over the team this year from legendary high school basketball coach Skip Townsend who had accrued nine state championships, and took the Lady Eagles to state the previous four years, having earned 3 titles for the Eagles.
"I believe in these kids," Westmoreland said. "It's amazing what they are doing, and we've faced adversity all year long," he said. "We did a good job of playing defense, and when our defense plays well, our offense is a lot better."
Argyle's team last year had a lot of size and experience, and this year the team only had two returning seniors leading the team, along with a brand new coaching staff.
"It's amazing what [the team is] doing right now considering how young we are," he said. "We just had to get creative, and we've had to really scramble on defense. We've had to trust each other, and offensively we try to create space."
Although Gabby Standifer, Rhyle McKinney, and Sydney Standifer are the leading scorers on the team, today sophomore Brooklyn Carl had her best game, and Westmoreland credits "her and Morgan Yarbrough as the two that kept [Argyle] in the game at the half."
"When you win, everybody's got to be involved," he said. "That's how it was this game, and it's been that way pretty much all games in the playoffs."
Senior Gabby Standifer took a charge that stopped a Wheatley play, then turned around to drive it back to score in the first half, which caused a "five-point swing" in the game.
"She's done it all year long," Westmoreland said. "And plays like that, those are huge, to be able to sacrifice your body. That says a lot about her. Gabby's going to do whatever it takes to win."
Gabby has earned four straight trips to the state finals, and this year she is also getting to play in the championship game alongside her sister, freshman Sydney Standifer.
"It's been really special," Gabby said. "It's like a dream come true because everyone doubted us this year, and I don't think anyone thought we would make it this far. I just want to go out and finish it, and it's a really cool game to go out and play with my sister this last year."
Gabby's experience the last three years has helped to settle and provide confidence for the younger players.
"I talked to [Sydney] and Rhyle and Brooklyn, and my teammates that aren't used to playing in this type of atmosphere, and I told them 'just don't be nervous, the other team is just as nervous as we are, just go out there and remember what got us here and we will be fine'," Gabby said. "If they are confident in themselves, then they can do it, and I'm just really proud of all of my teammates for working really hard."
Last year Gabby hit six 3's in the state final game, but this year she knows she needs to do more than just shoot.
"Last year, we had a bigger post presence, but this year it comes from both inside and out," she said. "Now, if my shots aren't falling, I have to go inside, which gets more people open. I just do whatever it takes to win."
With an all new coaching staff, they have not spoken about the possibility of a 4-peat for the Lady Eagles, but with the final game approaching, Westmoreland just wants the team to play their best.
"We just haven't talked about it," Westmoreland said. "That would be special to do, but I just want this group to get a championship. That's what matters. We are just playing basketball is all we're doing, and believing in each other."