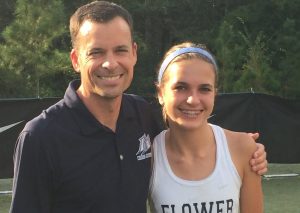 At the 40th Annual Cowtown Marathon on Sunday morning, Feb. 25, winner Andrew Cook of Flower Mound would not be denied.
The Track & Field/Cross Country Head Coach was the first male to cross the finish-line before more than 9,000 runners.
As the 26.2-mile race began to wind down that morning, two men separated themselves from the pack—Cook and Bernard Too of Kenya.
"Bernard and I were taking turns leading throughout most of the last six miles of the race," Cook said. "He would surge and take the lead and then I would respond and surge back to the front. Going into the last two miles, I felt we were very evenly matched and the person to make the last move would win the race."
Cook, 37, decided to wait until the last possible moment before he made his move; and, it turned out to be a come-from-behind victory.
"Going into the last half-mile, he had a 20-meter lead," Cook said. "I began to sprint and moved past Bernard. The last part of the race I was exhausted, but able to hold on for the win."
The Flower Mound coach said that his strategy for the run was based on a previous performance that did not go as well for him.
"My goal was to run in control and finish around 2:35, with a focus on picking up the pace the last six miles," Cook said. "In my previous marathon at Boston, I hit the wall and walked/jogged it in to the finish. It was a humbling experience and something I wanted to avoid at Cowtown."
Cook finished with a time of 2:29:51, while Too was not far behind at 2:30:24.
"After I had won, I was very surprised and happy to have finally won a big local marathon," Cook said.
He had previously competed at Cowtown at the age of 12 in the 10-K race.
Cook said he prepared for the race by running several 20-mile workouts and added he hopes that his athletes at Flower Mound High School take away a simple message from his performance at Cowtown.
"That I love to run and can relate to what they are doing in their training and races," Cook said.