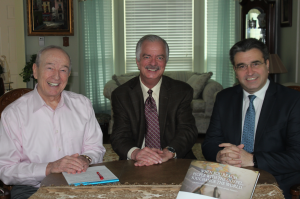 This past weekend I met a very interesting man from Eastern Europe. My wife Annette and I were invited to a cocktail party in the elegant home of Brian and Veronica Birkenstock, in Frisco, Texas. Ms. Birkenstock is running in the March 6th primary for the Republican nomination for Congress in Texas' 26th District. However, the evening gathering was not about politics. Instead, it centered on the guest of honor, Alexander Urumov, Chief Spokesman for the Defense Ministry of Bulgaria. Mr. Urumov is a leader who has risen to prominence in Bulgaria in the years since the decline of communism in Eastern Europe.
Bulgaria's population is about 7.2 million and has an area of about 43,000 square miles. By contrast, Texas, with about 28 million people and 269,000 square miles, has about four times the population and about six times the area of Bulgaria. The southeastern European country has a 1,123 miles long border which it shares with Greece, Macedonia, Romania, Serbia, and Turkey.
Mr. Urumov is the author of five books, including the multinational bestseller "Ali the Immortal," the true story of an Iranian soldier who survived unscathed from numerous fierce battlefields during the Iran-Iraq War. Ali became disillusioned with his Islamic faith and became a hardened criminal involved with drug trafficking gangs and murder. Soon, his notoriety in the criminal underworld of Europe resulted in his arrest, conviction and lengthy prison sentence. He spent 14 years in dark Bulgarian prisons, four in solitary confinement. During his long incarceration Ali came across a Bible written in his native language of Farsi. A new faith emerged in the person of Jesus Christ, changing Ali's life forever. Ali today tirelessly serves the poor in the refugee camps of Bulgaria as a committed missionary for Christ.
Alexander Urumov met Ali through Haggai International (HI), a Christian ministry that recruits, trains and equips respected leaders from around the world, and all walks of life, enabling them to present the Gospel to their own countries and cultures. HI has more than 103,000 alumni in 188 nations. Last June, I interviewed Highland Village resident Jack Wyman, Director of Advancement for Haggai: www.crosstimbersgazette.com/2017/06/15/weir-a-passion-to-serve-christ
Mr. Urumov's work on the political influence of Jesus has provoked lively debate among Bulgarian politicians. His first book, "Jesus Christ – Power and Politics," describes Jesus as a genuine political factor in his time and adds the social, religious and ethical context of his life. An able communicator, Urumov stands at the forefront of Christian ministry work in Eastern Europe. During the Frisco meeting he spoke about the collapse of the Soviet Union and the newfound freedom of the Bulgarian people. In the following videotaped interview he talks about the current political situation in Bulgaria, how he's able to maintain his Christian faith, the changes he's witnessed over the years in Eastern Europe and what he thinks of President Trump's administration.
Bob Weir is a former NYPD officer, long-time Flower Mound resident and former local newspaper editor.