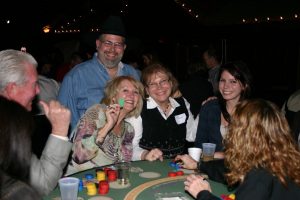 A local organization is preparing for an event this weekend to raise money for charity.
The Summit Club of Flower Mound, a fraternal organization of community members dedicated to serving others, is inviting the community to enjoy an evening of food, fun and more at its Western Saloon and Casino Night at the Circle R Ranch in west Flower Mound.
The annual event will feature Texas barbecue, casino/card games, live music, prizes and a silent auction on Saturday night.
"We have a lot of fun," said Member Al Picardi.
The fundraising event will benefit Christian Community Action's local food pantry and outreach programs, as well as The Summit Club's efforts to provide academic excellence awards to over 70 local students every year, NCTC scholarships, Boy Scout and Cub Scout troops and many other activities and events throughout the year.
"Our primary goal is to raise money for charity," Picardi said.
You may have seen Summit Club members cooking hot dogs at local events, or pancakes at the annual Breakfast with Santa.
The event will run from 7-11 p.m. on Saturday. Click here to purchase tickets. They will be up for sale right up until the beginning of the event, and they can also be purchased at the door.