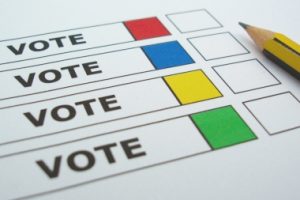 Now that the filing deadline has passed, area municipalities and school districts can begin making final arrangements for the May 5 general elections.
Here is a look at the municipal and school board elections this May in southern Denton County:
Argyle
There will be no town council election in Argyle, however, voters will decide the reallocation of sales tax dollars.
Place 1 incumbent, Joey Hasty, is not running again and candidate has Alex Vukasin filed to take his seat.
Place 3 incumbent, Jon Donahue, and Place 5 incumbent, Marla Hawkesworth, are running unopposed.
There will also be a sales tax election to shift one-quarter-cent from the Economic Development Fund to that of the Street Maintenance Fund; there will be no tax increase.
Bartonville, Copper Canyon, Double Oak, Lantana
These communities feature uncontested positions, therefore no elections will be held.
Flower Mound
The May 5 election will feature only one council member incumbent running for re-election.
Both Mayor Tom Hayden and Place 2 Council member Bryan Webb have reached their term limits.
The four candidates running for the open three-year mayor position are: former three-term council member Steve Dixon; former two-time council member Paul Stone; newcomer Bill Robinson; and, a last-minute filing by Cathy A. Strathmann, who ran unsuccessfully for council the past two years. The fifth candidate, former council member Jean Levenick, withdrew her application, citing life-changes for her withdrawal.
The two candidates running for the two-year Place 2 council seat are: current Planning & Zoning Commissioner Albert Picardi; and, former Planning & Zoning Commissioner Sandeep Sharma.
The three-year Place 4 council seat features three candidates: current Council member Don McDaniel; Jim Engle, who ran for Town Council previously, but was not elected; and newcomer Tony Lawrence, a town resident since 2010.
Highland Village
There was no election held in 2017, because there were no contested positions. This year, however, there are multiple candidates.
Filing for re-election in Place 1/Mayor is Charlotte Wilcox, who was re-elected in the 2015 election and had been appointed to the position in May 2014 when then Mayor Pat Davis resigned.
Running against Wilcox is student Eric Aplis.
The five candidates running for Place 2 are: Jim Archibald, who ran unsuccessfully against Wilcox in 2015; city residents M. David True, Jon Kixmiller, Dave Shilling and Jason Edwards.
Place 6 incumbent John McGee is not running, however, two candidates for the position are: Edward Balboni; and Robert Fiester, both first-time candidates.
Place 4 incumbent Barbara Fleming is running unopposed.
Northlake
Place 1 incumbent Jean Young will face-off against Rena Hardeman and Place 3 incumbent Michael Ganz is being challenged by Brian Montini.
Place 2 incumbent Mike McBride drew a write-in candidate, Jimmy Lambert, a new resident of Northlake.
Argyle ISD
This year, both open Board of Trustee positions have two candidates each; neither incumbents are running for re-election.
Board seat Place 4 candidates are: Ritchie Deffenbaugh and Brett Flaten.
Board Place 5 candidates are: Leona McDade and David Howell.
Denton ISD
Multiple applications for two open Denton ISD Board of Trustee positions were received late on deadline afternoon.
Place 1 incumbent Barbara Burns of Denton will face Bradley Fritcher of Corinth, Barry Barnes of Lantana and Alfredo Sanchez of Denton, who ran unsuccessfully last year against Jim Alexander.
Place 2 incumbent Dr. Jeanetta Smith of Denton will face David Shuck, who is also a Denton resident, plus Jonathan Balmos of Lantana; and, Angela Cid of Savannah.
In addition, there is a Bond Election voters need to address. The bond package totals $750.5 million and covers 109 proposed projects. However, the proposed bond referendum will have $0 impact on the school district's tax rate.
The Trustees' action follows a unanimous recommendation from the district's Citizens' Advisory Committee to address growth, equity, and safety across the district.
The bond package includes:
New elementary school
New middle school
A replacement school for Denton High School
A replacement school for Newton Rayzor Elementary School
A replacement school for Woodrow Wilson Elementary School
Renovations and upgrades to 25 schools to update aging facilities
Expansion and updates to Career & Technical Education classrooms and facilities
Safety and security improvements at every school campus
Updates to facilities used for athletics and fine arts
Lewisville ISD
The Board of Trustees consists of seven members elected to serve for overlapping terms of three years each. While candidates run for specific places, they do not represent specific geographical areas; rather, each represents Lewisville ISD at large.
Places 1 and 2 will be on the ballot. Kronda Thimesch, incumbent in Place 1, is seeking re-election and is being challenged by Sandra Weinstein, who ran unsuccessfully in 2017. Trisha Sheffield, current Place 2 Board member, will not seek re-election. Denise Riemenschneider of Flower Mound, Allison Lassahn of Highland Village; and, David Hernandez of Lewisville are running for Place 2.
Northwest ISD
Places 1, 2 and 7 are up for election on the Northwest ISD Board of Trustees.
Incumbents Josh Wright, Place 1, and Mark Schluter, Place 2 and president, are both residents of Haslet and are running uncontested.
Four people have filed to take over the Place 7 seat: Joy Harrison of Trophy Club; Matthew Hirst of Haslet; and, Ron Hastings and Stephen Janis, both from Fort Worth.
On Oct. 31, 2017, Place 7 Board Member Mel Fuller was arrested on suspicion of possession of child pornography, according to the school district. His resignation was effective the next day.
Terms last three years.
Other Areas
In Lewisville, incumbent Rudy Durham, who has been mayor since 2015 and on the council since 1994, will face off against Penny Mallet, who ran for City Council last year, and Winston Edmonson, who has run for mayor several times. Place 2 incumbent Neil Ferguson will run against former city council member Ronni Cade and another last-second challenger, phlebotomist Mary Smith. Read more here.
Voting
Election Day is May 5 from 7 a.m. to 7 p.m.
Residents who are not yet registered to vote must register by Thursday, April 5; and, the last day to request an absentee ballot is Tuesday, April 24.
Early voting: Denton County— Monday, April 23 to Saturday, April 28, 8 a.m. to 5 p.m.; Monday, April 30 and Tuesday, May 1, 7 a.m. to 7 p.m.
Tarrant County— Monday, April 23 to Friday, April 27, 8 a.m. to 5 p.m., Saturday, April 28, 7 a.m. to 7 p.m., Sunday, April 29, 11 a.m. to 4 p.m.,Monday, April 30 and Tuesday, May 1, 7 a.m. to 7 p.m.
All voters are required to present an approved form of photo identification; visit: www.votetexas.gov for specifics.
Most answers to voting questions can be found at: www.votedenton.com or 940-349-3200.